April 6th, 2020
Meditation Mondays with Edgar Fabián Frías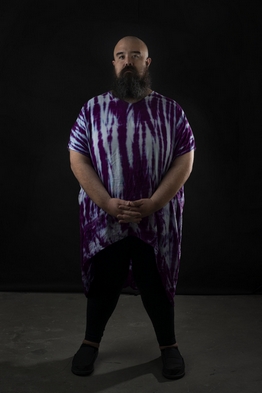 Hosted by artist Edgar Fabían Frías, Meditation Mondays presents online programming to set the tone for the week supporting wellbeing, healing, mindfulness, and gratitude.
#Meditation Mondays #VPAMRollCall #MyCommunityMyMuseum
---
April 13th, 2020
Guided Meditation | 4 Ways to Engage Your Breath
Edgar Fabián Frías teaches 4 Ways to Engage Your Breath for Mindfulness and Grounding. They explain four different breathing techniques; Square Breathing or Box Breathing, Belly Breathing or Diaphragmatic Breathing, Chanting or Singing / Humming, and Alternating Nostril Breath.
Follow VPAM on Instagram and Facebook to join Edgar every Monday to learn about new ways to support wellbeing, healing, mindfulness, and gratitude.
---
April 20th, 2020
Tag Team Intuitive Reading with special guest Asher Hartman
Edgar Fabián Frías and special guest Asher Hartman "Tag Team" Intuitive Readings as well as provide a short energetic reading. Hartman describes their readings as follows:
"Readings are poetic exchanges that I consider collaborative. After all, we are in profound connection as we unite our energy fields for mutual growth. I honor your openness and your willingness to be seen."
For more information about Asher Hartman and his practice visit his Website.
---
April 27th, 2020
For this fourth installment of Meditation Monday, Edgar Fabián Frías, began the livestream with a guided somatic meditation to help viewers tune into their body and they then shared a little about their own personal journey with mindfulness and meditation. After this, Edgar shared a little bit of information about the neurobiology of mindfulness, discussing some of the information they have learned from the field of Interpersonal Neurobiology, which was begun by Dr. Daniel J. Siegel.
---
May 4th, 2020
Conversation between Edgar Fabián Frías and special guests Ofelia Esparza, and Rosanna Ahrens
A live conversation hosted by Edgar Fabián Frías with Chicana artist and altarista Ofelia Esparza and her daughter Rosanna Esparza Ahrens.
In this conversation, they discussed the process of creating sacred spaces and their connection to health, resiliency, and spirituality.
---
Ofelia Esparza is a Chicana artist and 4th generation altarista (altar maker), whose work is informed by a deep spiritual belief in the traditional process. For over 40 years, Esparza has shared her cultural knowledge as an educator in the East Los Angeles neighborhood of City Terrace and at the renown art center Self Help Graphics & Art, where she first created public altar installations for Dia de los Muertos and Noche de Ofrenda. The National Endowment of the Arts has recognized Ofelia Esparza as one of ten National Heritage Fellows for 2018.
Ofelia was born and raised in East Los Angeles, where she has lived her whole life since 1932. The cultural traditions such as altar making was passed down by her mother and grandmothers, and she in turn passed them along to her own nine children, who continue to develop their own talents within the custom of altar making.
---
May 11th, 2020
Reclaiming the Body as Altar and the Creation of New Myths with Yunuen Rhi and Edgar Fabian Frias
Edgar and special guest, Yunen Rhi, hosted a short Daoist Meditation and then shared their connection to one another and their shared creative and cultural paths as well as discuss projects they have worked on together that connect to the title's themes and how these themes weave into their research in anthropology, mental health, spirituality, metaphysics, indigenous epistemologies, and other realms.
---
Yunuen, founder of Isuini, is a martial and performance artist, independent researcher and healer based in Los Angeles, California. Her roots are in Mexico, the United States, and Korea. She started training in Baguazhang and healing arts in Beijing, China in 2008. Her Master Liu Xuyang initiated her into the 6th generation of the lineage in 2010. Since 2015, she has been under intensive training with her second Master Li Baohua (holder of the 4th generation Magui Bagua lineage) in Japan. Yunuen strives to continually advance her skills. In addition to Bagua, she is trained in multiple healing methods. The convergence of her diverse healing techniques has equipped her to be a translator of eastern and native healing systems to the west to help better understand our place within our societies and ecologies. She has cultivated herself in eastern, western and native medicine ways of North America. She is certified in Taoist stomach massage and Fire Therapy in Beijing and holds a master level three in Usui Reiki. She shares her practice with artists, activists, and the community at large since 2011 through workshops in Mexico, the United States, and Germany.
---
My Community, My Museum. Mi Comunidad, Mi Museo. 我的社區, 我的博物館.
VPAM Roll Call is a digital initiative dedicated to hearing from the many people who form our community. Through online conversations, blog posts, and activities, we check-in with artists, community members, and students at East Los Angeles College in an effort to promote virtual wellness and dialogue. VPAM Roll Call aims to provide opportunities to support one another while staying connected and inspired.
Join the conversation at #VPAMRollCall #MyCommunityMyMuseum
Connect to our platforms:
Stay up to date with important information about COVID-19 on the LACCD website. Here you can find information about the health crisis from the LA County Department of Public Health and specifically for ELAC and LACCD Students (English and Spanish). Read content directly in your language on the LA County Department of Public Health's website.
Bulletin Board: Use VPAM's Facebook page to share community resources