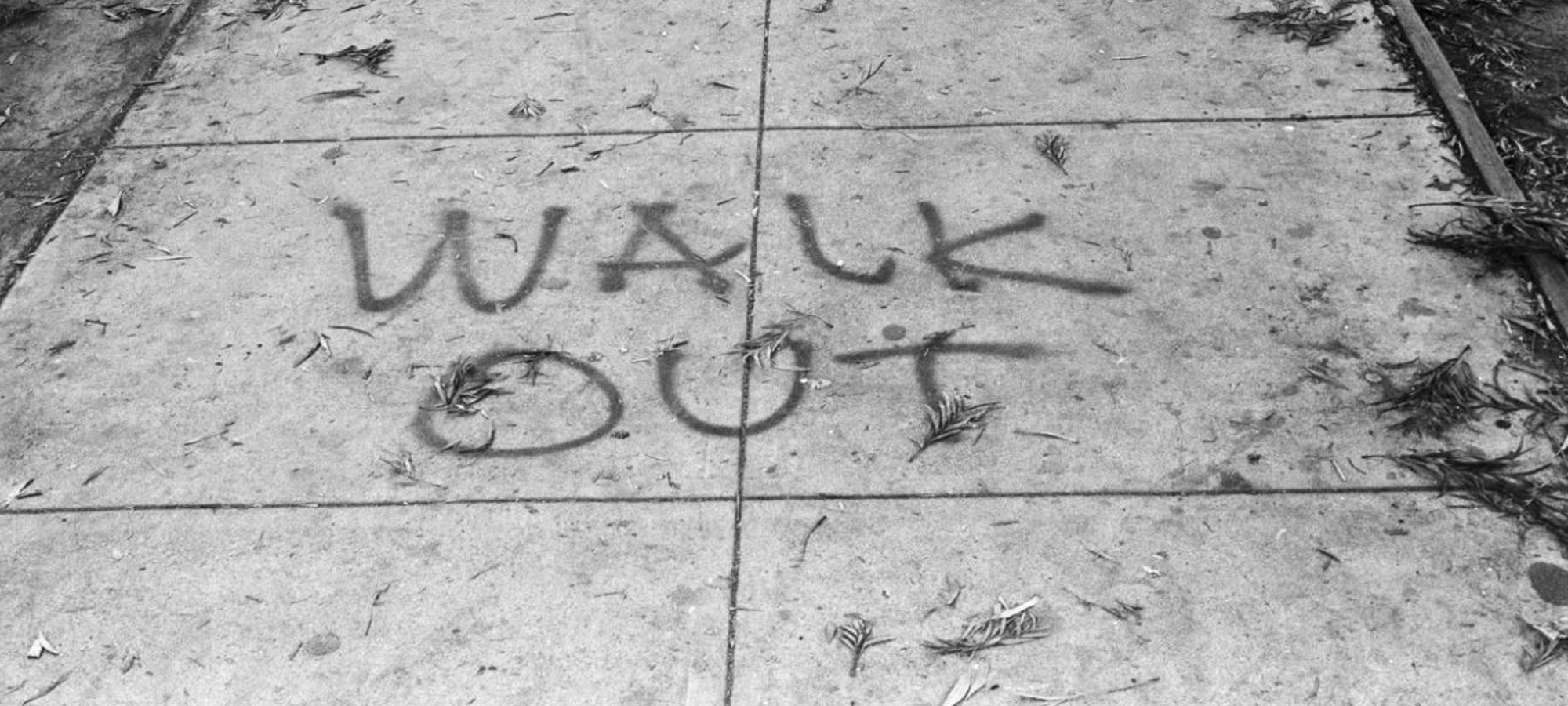 Image credit: © Devra Weber. From the La Raza Photograph Collection. Courtesy of the UCLA Chicano Studies Research Center.
The 1968 Walkouts were among the first student demonstrations to confront injustice and inequity in the United States public school system. Join photographers Oscar Castillo and Devra Weber in conversation as they reflect on their work as artists and documentarians during this pivotal time in United States history. Moderated by UCLA Professor Emeritus Dr. Carlos Manuel Haro.
Participant Biographies
Oscar Castillo's extensive photographic work documenting the Chicano community over the past forty years offers a distinctive visual challenge to the stereotypical representation of East Los Angeles as violent or exotic. It does so by maintaining a calm, almost matter-of-fact gaze on everyday barrio life, the post-urban renewal landscape, and the cultural practices and political events that redefine public space. Castillo was born in El Paso, Texas, in 1945 and developed an interest in photography at a young age. His parents always encouraged him to pursue the arts, but it wasn't until Castillo arrived at San Fernando Valley State College (now California State University, Northridge) in 1969 that he received formal training in the medium. Yet, it was the activity emanating from the school's newly formed Chicano Studies Department—one of the first in the nation—that got him shooting. Motivated artistically and identifying politically, Castillo photographed Chicano protests, parades, and ordinary public life in what proved a period of profound social and political upheaval. The result is one of the richest photographic collections available of the Chicano civil rights movement. Castillo's images reflect his keen awareness of the relationship between a subject and its environment. It is this texture, combined with his masterful sense of timing and composition, that makes Castillo's photographs examples of both photojournalism and art photography. Whether the subject is people on the street, political figures giving speeches, or emerging media figures, Castillo's extensive documentation reveals contrasting views of a multigenerational community becoming more visible.
Devra Anne Weber worked with Chicano Student News and La Raza newspapers from 1967 to 1970. Her photos also appeared in other movement newspapers of the time, and have since appeared in a number of books and exhibitions. She is Professor of History at UC Riverside, and an internationally published scholar. Publications include Dark Sweat, White Gold: California Farm Workers, Cotton and the New Deal (UC Press, 1993) and Manuel Gamio: El inmigrante Mexicano: la historia de su vida, entrevistas completes, 1926-1927 (Librería Porrúa, 2002). Weber has published several oral history articles including "Raiz Fuerte: Oral History and Mexicana Farm Workers" and "Mexican Women on Strike in 1933: The Structure of Memory", both of which have been anthologized. Other articles include "Wobblies of the Partido Liberal Mexicano: Reenvisioning Internationalist and Transnational Movements through Mexican Lenses"; "Keeping Community, Challenging Boundaries: Indigenous Migrants, Internationalist Workers, and Mexican Revolutionaries, 1900-1920"; and "The Organizing of Mexicano Agricultural Workers in the Imperial Valley and Los Angeles, 1928-1934: An Oral History Approach" which was published in the second issue of Aztlan, Fall 1970. Weber taught in the UCLA Upward Bound program, was an advisor to La Gente newspaper in its early days, and worked at the UCLA Chicano Studies Research Center for several of its early years. Weber was named Distinguished Lecturer by the Organization of American Historians, has earned national and international fellowships, and has won several academic awards for her scholarship.
Carlos Manuel Haro is a postdoctoral scholar-in-residence at the UCLA Chicano Studies Research Center (CSRC). Retired in 2008 as the assistant director of the CSRC, Dr. Haro served as coordinator of the annual CSRC Latina/o Education Summit series from 2006-2015. He has also directed a number of other scholarly conferences at UCLA, including "Mendez v. Westminster School District: Paving the Path for School Desegregation and the Brown Decision" (2004), "The Sleepy Lagoon Case, Constitutional Rights, and the Struggle for Democracy" (2005), and "Sal Castro and the Chicano Youth Leadership Conference: The Development of Chicano Leadership Since 1963" (2006). Dr. Haro has published on college admission policies, the Bakke decision, and school desegregation. As a postdoctoral scholar at the CSRC, he undertakes and directs specific education research projects and assists with the research and fellowship programs of the CSRC.