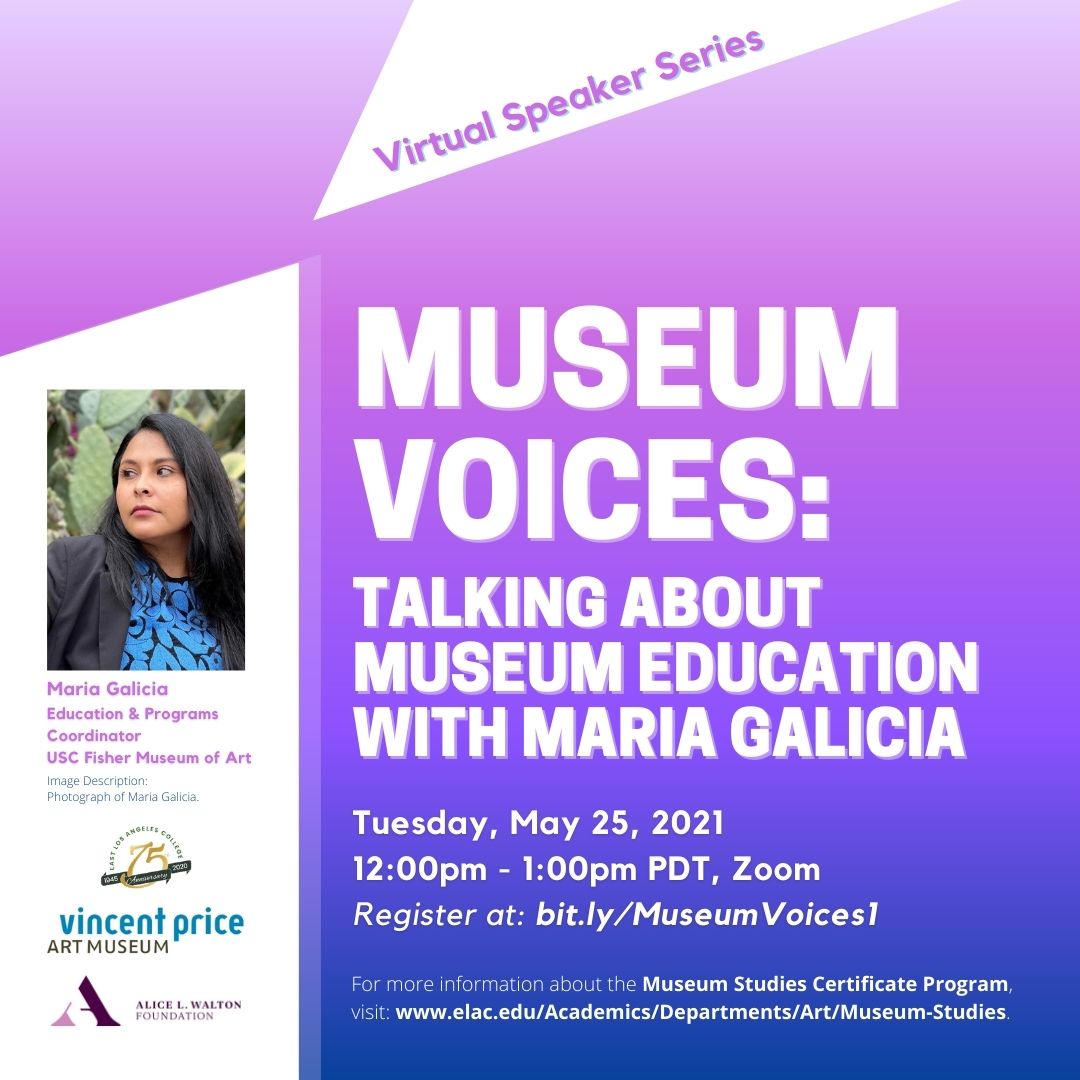 ---
Tuesday, May 25, 2021, 12:00 PM - 1:00 PM PDT
Zoom Registration: http://bit.ly/MuseumVoices1
Join us for Museum Voices: Talking About Museum Education with Maria Galicia on Thursday, May 25, 2021 at 12 pm PDT! Museum Voices is a new virtual guest speaker series inviting leading museum professionals to share their professional journey and personal advice with current and prospective students in the Museum Studies Certificate Program (MSCP) at East Los Angeles College (ELAC). Hear from Maria Galicia, Education & Programs Coordinator at the USC Fisher Museum of Art and engage in an inquiry-driven exchange during this lunch hour event!
About the Guest Speaker:
Maria Galicia was born in Morelos, México and raised in Los Angeles. She is a mixed media artist, arts administrator and museum educator. She has exhibited her work locally and nationally, including the Pacific Design Center in West Hollywood, California, Sanford University in Stanford, California and Rebecca Ibel Gallery in Ohio to name a few. Additionally, she has curated various exhibitions at El Corazon Gallery, Art Division Gallery, and the Mexican Consulate in Los Angeles. While working at the Heart of Los Angeles (HOLA) arts organization, she started integrating programs for parents, such as Taller de Madres, a weekly art workshop series for mothers of HOLA's students. In 2011, Maria co-founded Art Division, a non-profit arts organization dedicated to training and supporting underserved youth who are committed to studying the visual arts. Currently, she serves as the Education and Programs Coordinator at USC Fisher Museum of Art and an active board member of Art Division.
To learn more about the Museum Studies Certificate Program, please visit: www.elac.edu/Academics/Departments/Art/Museum-Studies.
Museum Voices are organized by the Vincent Price Art Museum in collaboration with the Art Department and Museum Studies Certificate Program at East Los Angeles College. The event series is made possible with the generous support from the Alice L. Walton Foundation. All exhibitions and programs are underwritten by the Vincent Price Art Museum Foundation and East Los Angeles College.