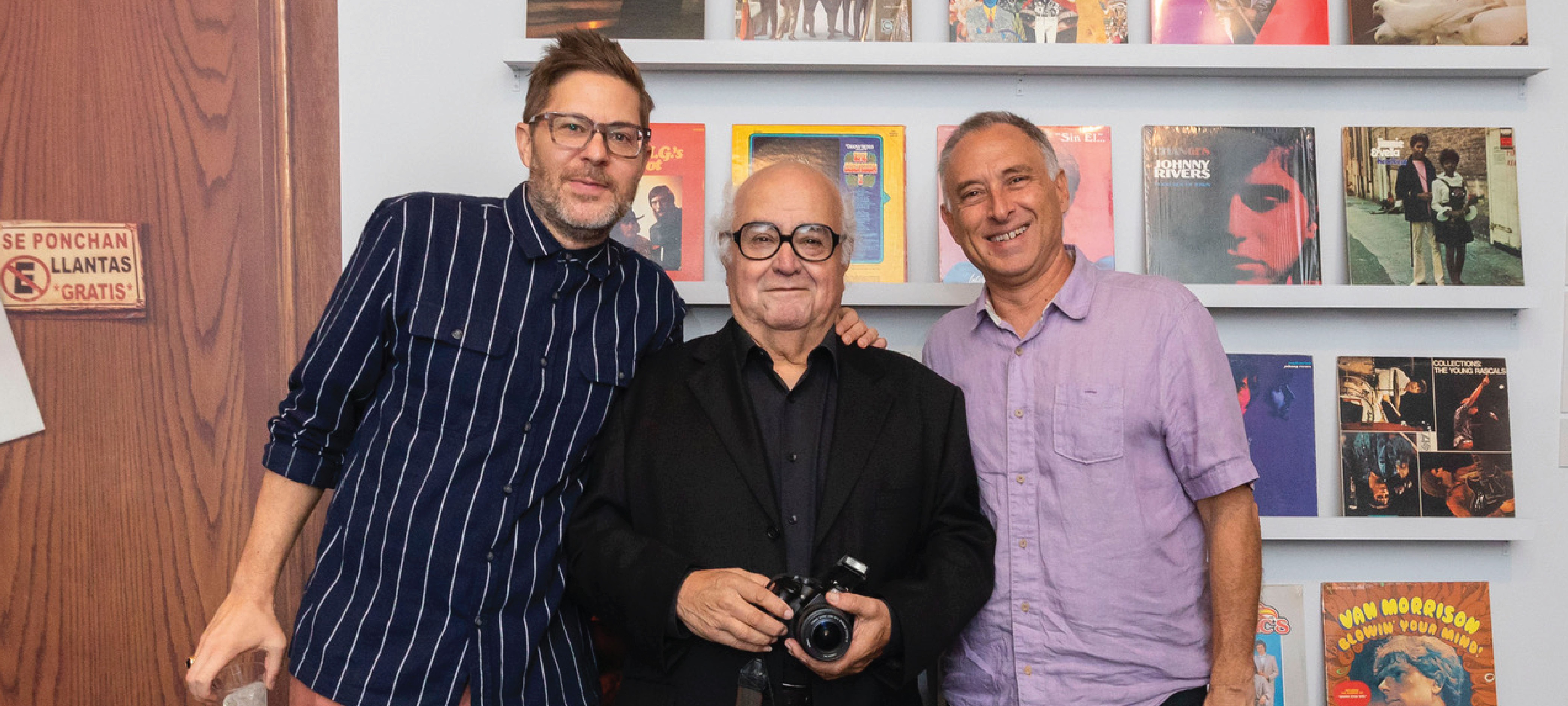 Join us for a screening of A Picture of George! George Rodriguez: An American Photographer (2018), produced and directed by Billy Rapaport. A conversation with Rodriguez, Rapaport, and exhibition curator Josh Kun to follow. This special program will be the final opportunity to view the exhibition George Rodriguez: Double Vision.
---
ABOUT THE PARTICIPANTS
Billy Rapaport began his career with behind-the-scenes interviews at Saturday Night Live and has taken him to coverage of the Olympic Games with NBC. His long list of producing credits includes The Rascals: One Upon a Dream on Broadway, the Emmy and Peabody Award-winning SportsCentury: The Fifty Greatest Athletes on ESPN, as well as the Emmy nominated Breeders' Cup film series on NBC. Billy's directorial experience has followed a similarly diverse and accomplished path. The World's Funniest Commercials for TBS, The Instant Beauty Pageant pilot for E! and New York stage productions of Lanford Wilson's Burn This and Sam Shepard's Simpatico, among others. Billy recently produced and directed a documentary on the life of legendary Los Angeles photographer George Rodriguez.
George Rodriguez is an American photographer raised in downtown and South Central Los Angeles. A student of a claim to Hollywood photographer Sid Avery and a contemporary of Dennis Hopper, Rodriguez is one of the great visual documentarians of Los Angeles and the cultural complexities of Mexican American life. Rodriguez's photos are part of the collections of the Mexican American Legal Defense Educational Fund (MALDEF) and the Smithsonian Institution, and have been exhibited at the National Chavez Center, the Grammy Museum at L.A. Live, the Natural History Museum of Los Angeles County, Museum of Latin American Art, the Smithsonian National Portrait Gallery, and the Smithsonian Latino Center, among others.
Josh Kun is Professor and Director of the School of Communication at the University of Southern California. His research focuses on the arts and politics of cultural connection, with an emphasis on popular music, sound, the cultures of globalization, the US-Mexico border, Los Angeles, and Jewish American musical history. Kun is co-editor of Soundclash: Listening to American Studies (2012) and Tijuana Dreaming: Life and Art at the Global Border (2012), and has created exhibitions and collaboration with the Getty Foundation, the Museum of Latin American Art, the Skirball Center, and the Grammy Museum at L.A. Live. He most recently served as author and editor of Double Vision: The Photography of George Rodriguez (Hat and Beard Press, 2018).
ELAC encourages persons with disabilities to participate in its programs and activities. For accommodations requests, please contact Victor Parra parravj@elac.edu at least seven business days prior to program date.