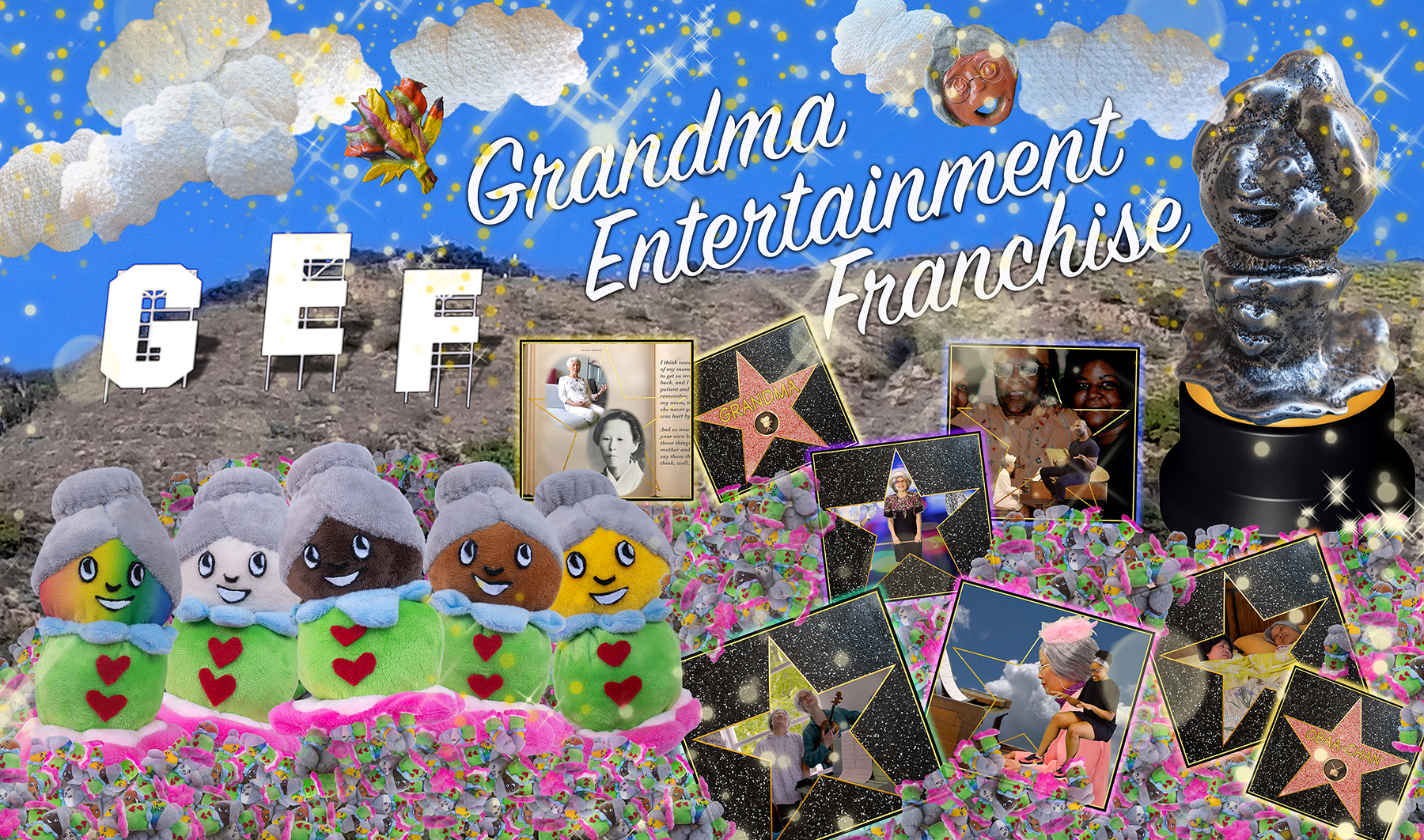 OCTOBER 21, 2023 – FEBRUARY 3, 2024
OPENING RECEPTION: OCTOBER 21, 2023 6:00 PM – 8:00 PM

In her first solo museum exhibition, Grandma Entertainment Franchise, artist Yoshie Sakai brings together three immersive installations produced over the last three years: Grandma Day Spa, Grandma Nightclub, and Grandma Amusement Park. These three distinct but interconnected installations, composed of Sakai's video and sculptural work, satirically reproduce public sites of leisure, re-imagined with grandmothers as their target demographic.
Grandma Entertainment Franchise stems from Sakai's reflections on her own grandmother, or obaa-chan, who came to live with her family when the artist was nine years old. Sakai's memories of her obaa-chan open a searing, tragicomic inquiry into society's obsession with youth and innovation, as evident in the outsourcing of elderly care, urban redevelopment and disinvestment, marketing demographics, and our notions of desirability, success, and the good life.
Grandma Entertainment Franchise builds on Sakai's probing, affect-laden excavations of capitalism, family dynamics and social structures, and the psychology that writes them in space. This exhibition critiques capitalism's production of space and ways of being, while also drawing on popular forms of entertainment and media to engage diverse audiences, especially those historically devalued, ignored, and seen as burdens.
The exhibition is guest curated by Dav Bell and Ana Iwataki.
About the Artist
Yoshie Sakai is a multidisciplinary artist who works primarily in video, sculpture, installation, and performance. She has exhibited and performed locally at Munzón Gallery, Long Beach (2023); Torrance Art Museum (2023, 2013); ArtCenter DTLA (2020); University Art Gallery, California State University Dominguez Hills (2019); Visitor Welcome Center, Los Angeles (2018); and internationally in Cambodia, Canada, Germany, Japan, and Korea. Sakai is the recipient of the City of Los Angeles (COLA) Individual Artist Fellowship; California Community Foundation Fellowship For Visual Artists; Foundation for Contemporary Arts Emergency Grant, and was in residence at the Skowhegan School of Painting and Drawing in 2014. She received an MFA from Claremont Graduate University, BFA from California State University, Long Beach, and BA in Communication Studies and Classics from UCLA. She lives and works in Gardena, California.
---
Generous support for this project is provided through a grant from the Mellon Foundation.

All exhibitions and programs at the Vincent Price Art Museum are underwritten by the Vincent Price Art Museum Foundation and East Los Angeles College.