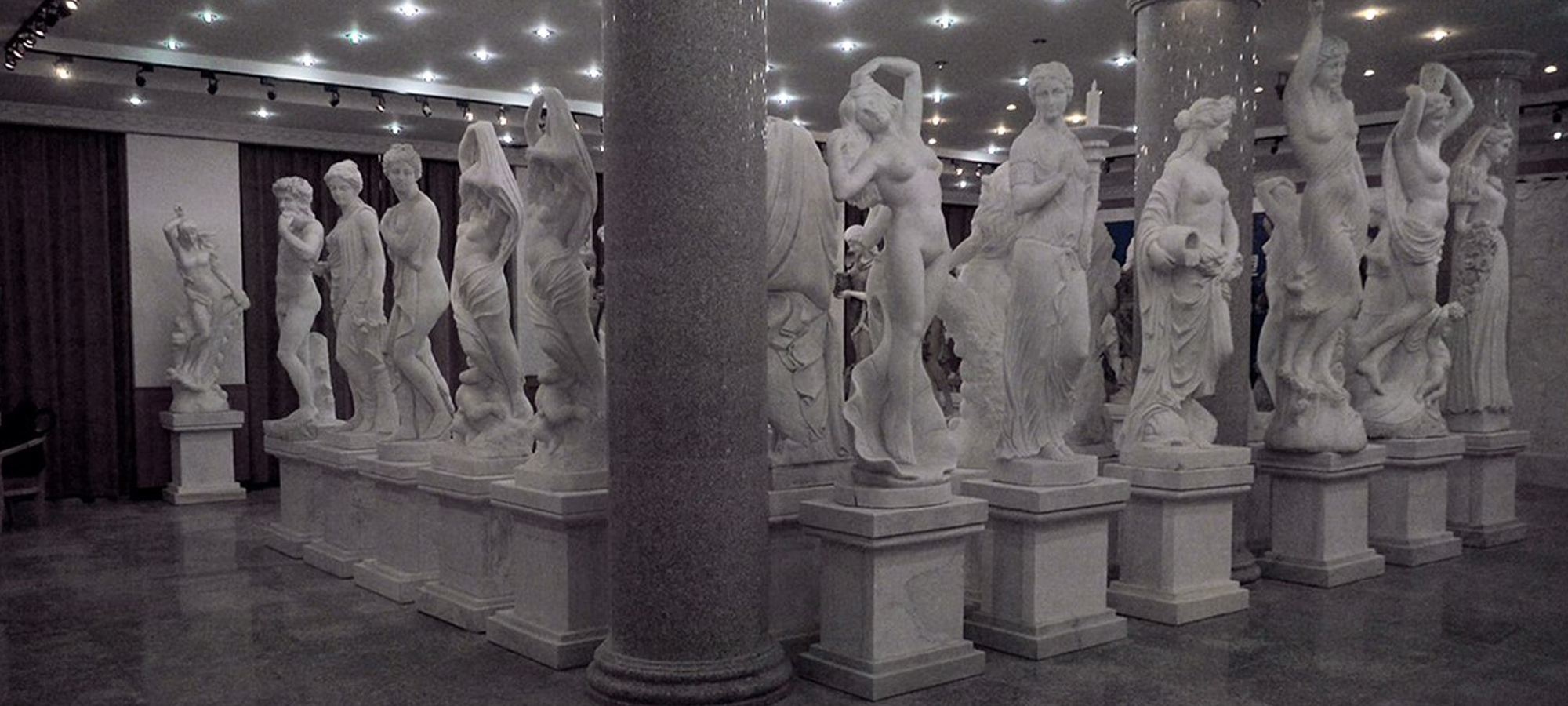 December 8, 2018 - March 9, 2019
Wang Xu: Garden of Seasons features a new monumental sculpture, Athena (2018), and a two-channel video that both records the sculpture's physical creation and reflects upon the historic and economic conditions that help determine its significance. Taken together, these works establish a distinction between the creation of an artwork and the interpretive activity through which its meaning is established, contested, and revised.
Central to the exhibition is Heritage Falls Park, located in Monterey Park near the Vincent Price Art Museum, that was built in the 1920s and includes a niche that originally housed a marble sculpture of a female figure referred to as "Athena." The sculpture, which disappeared shortly after it was installed, was not replaced until 2005, when the Monterey Park Historical Society installed a replacement "Athena," which like its predecessor, bears no formal signifiers commonly associated with the Greek goddess Athena.
Equitable Vitrines, a Los Angeles nonprofit committed to expanding the collective understanding of art in public places, worked with artist Wang Xu on a proposal to the City of Monterey Park in 2017 for an intervention at Heritage Falls Park to temporarily present Wang's sculpture Eve (2015). Wang's Eve, produced in Quyang, China where the 2005 "Athena" sculpture also hailed from, was made by recovering a damaged statue of the Biblical figure and re-carving it in the image of a woman who worked at the marble quarry and factory where it was created. The proposal generated debate about the site in relationship to the nature of public artwork, leading to the rescinding of the plan, and prompting the production of these new works.
---
Wang Xu (b. 1986, Dalian, China) received his BFA in sculpture from Central Academy of Fine Arts, Beijing, before pursuing an MFA at Columbia University in New York City. He is a 2018 resident of The Skowhegan School of Painting and Sculpture, and has exhibited recently at 47 Canal, New York; Shanghai Project, Shanghai; and SculptureCenter, New York.
---
This exhibition is organized and curated by Equitable Vitrines. Major support for the exhibition comes from the Andy Warhol Foundation for the Visual Arts with additional funding provided by Michael Asher Foundation.
All exhibitions at the Vincent Price Art Museum are underwritten by the Vincent Price Art Museum Foundation and East Los Angeles College.
---
Installation Shots