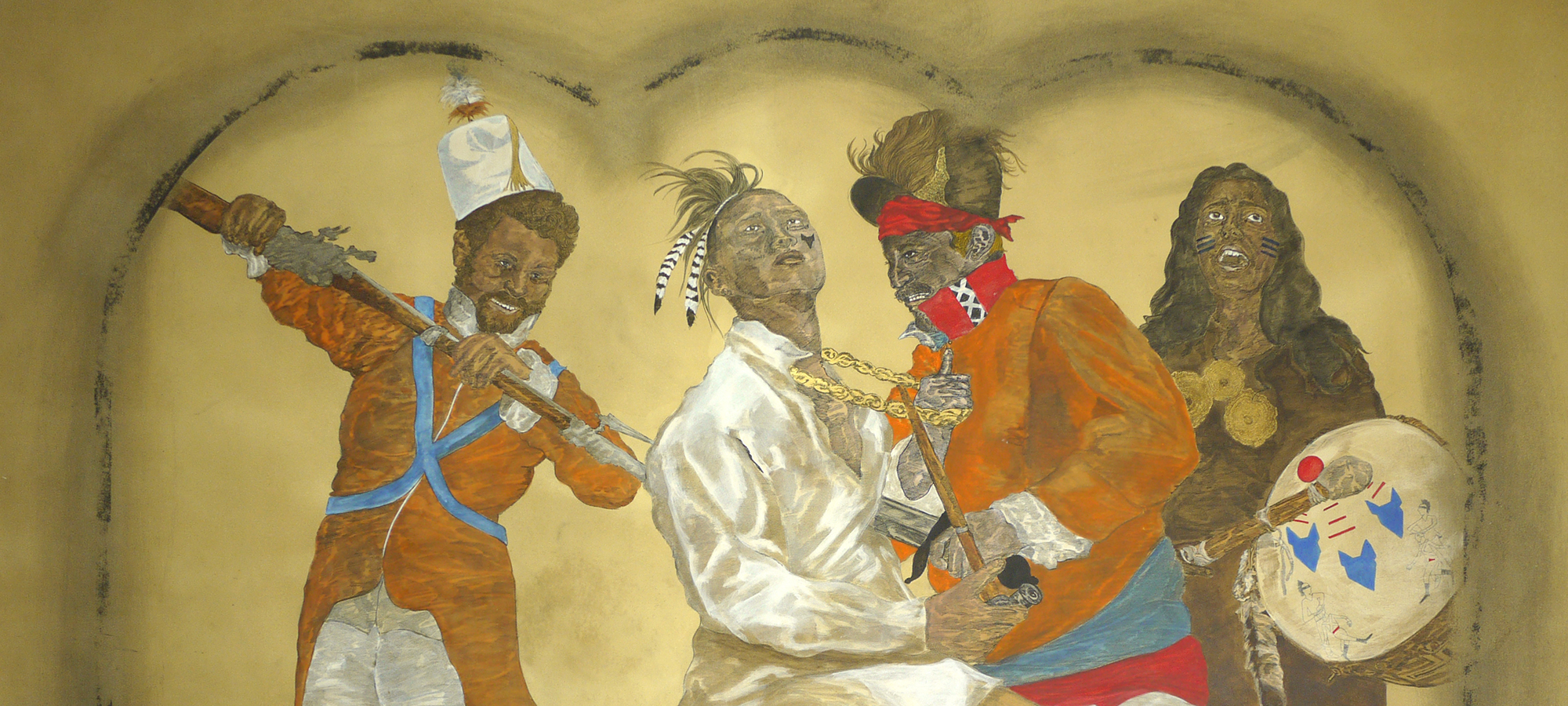 June 15 - December 21, 2019
Extended through March 27, 2020
Within his artistic practice, Umar Rashid blends fictional and real histories, while freely traversing both time and world geography. Rich with detail, Rashid's paintings, drawings, and sculptures reference colonialism, empire, and westward expansion in the Americas during the 18th century, remixing global players – African, European, and indigenous peoples – in a process of storytelling and mythmaking. By reworking the historic projects of colonization, war, and the making of nation-states, Rashid creates alternate narratives, scripting a different past for human history – one that intersects with the present and forecasts new futures.
The works in this exhibition span several years of production, and center on the Frenglish Empire, an invented hybrid of the French and British colonial empires, and its points of contact with native and African diasporic cultures across the western hemisphere. With a nod to the literary technique of the frame story, an overarching structure with various narrative vignettes, artworks displayed here include thematic groupings of maps, portrayals of battles, and portraits of characters that all tie into the artist's broader epic plot. Rashid depicts battalions of freed slaves, militiamen, tribesmen, and African, European and Meso-American nobility, while also incorporating material commodities of the period, such as tea and coffee used to stain his drawing paper. Interweaving research, innovation, and humor, Rashid's practice oscillates in time, moving between past, present and future, and speaks to the amalgamations of culture that have always existed.
---
Los Angeles-based artist, storyteller, history buff, musician, and poet Umar Rashid (Frohawk Two Feathers) was born in 1976 in Chicago. He earned a BA at Southern Illinois University in 2000 and has exhibited widely nationally and internationally. His work has been presented at numerous institutions including the Hudson River Museum, the Wadsworth Atheneum Museum of Art, the Nevada Museum of Art, the Visual Arts Center of New Jersey, the Ruth and Elmer Wellin Museum of Art at Hamilton College, the Museum of Contemporary Art, Denver, The Armory Center for the Arts, the Contemporary Arts Center, Cincinnati, the Kentucky Museum of Art and Craft, the Torrance Art Museum, and the Santa Barbara Museum of Art. Additionally, he has participated in solo and group gallery exhibitions at New Image Art Gallery, Galerie Cokkie Snoei, Morgan Lehman Gallery, Narwhal Projects, Heiner Contemporary, Stevenson Gallery, Johannes Vogt Gallery, Subliminal Projects, and Avenue 50 Studio.