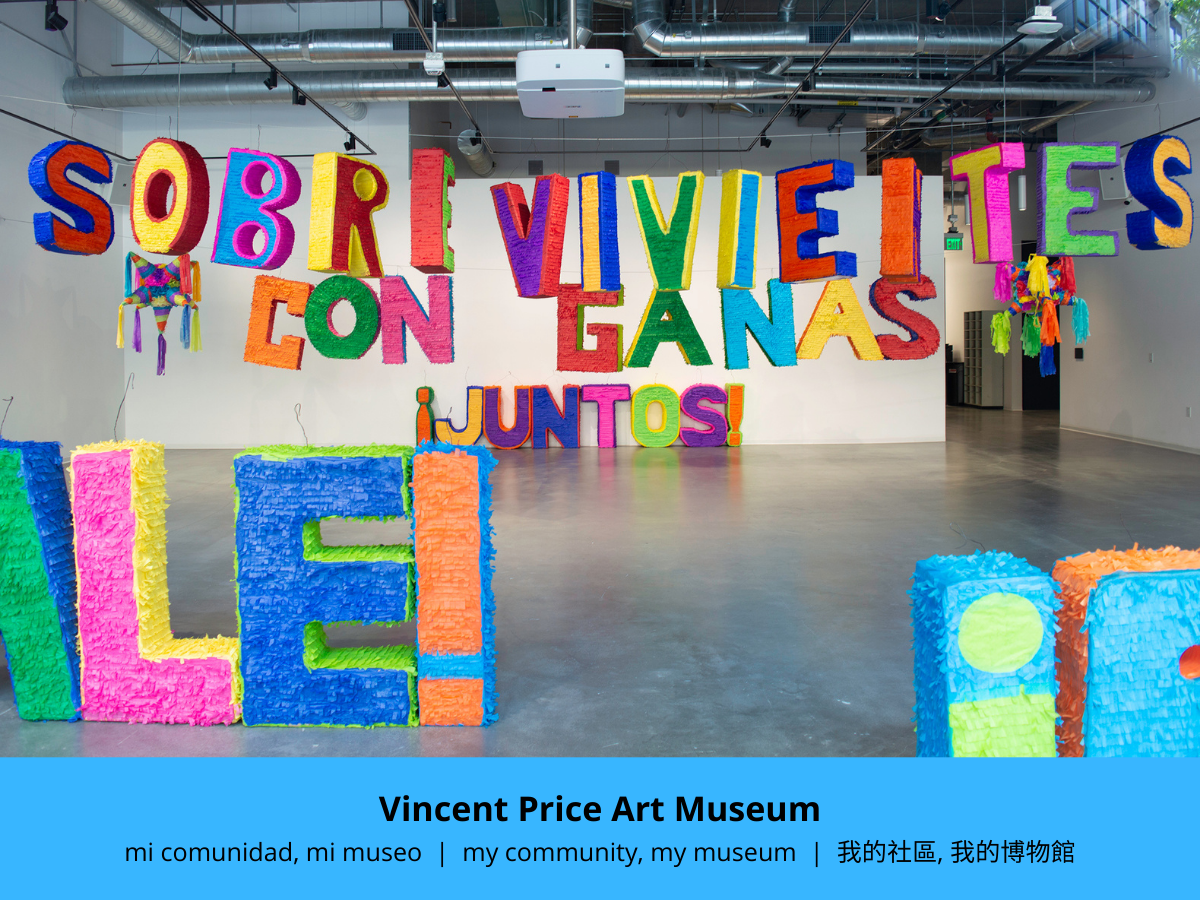 First of all, thank you. As a member of our VPAM community, you make it possible for the voices of artists and communities of color to rise above in these challenging times.
We welcome the culture shift that is spreading across the country in support of racial equity, social justice, and human dignity. The pandemic has strengthened our resolve and validated our commitment as a unique educational resource bringing art to diverse communities, especially East Los Angeles and the San Gabriel Valley. At VPAM we have widened our digital doors and promoted art, wellness, and community-engaged artists. For example, over the past few months, our VPAM In The Studio short-format interviews have created space for artists such as Dulce Soledad Ibarra, noé olivas, and William Camargo.
I Want to Make a Difference
What sets VPAM and the VPAM Foundation apart is that we reflect communities of color inside and out. While fewer than 5% of those in top museum leadership positions are people of color, at VPAM our staff and board are predominantly people of color. Over the course of this historic year, we are proud to have:
Promoted the critically-acclaimed retrospective, George Rodriguez: Double Vision to an international audience through our partnership with Frieze Los Angeles and Frieze Magazine.
Partnered with LACMA and The Huntington to acquire works of art from Laura Aguilar, Carolina Caycedo, and rafa esparza.
Co-launched the Latinx Arts Alliance as a founding member.
Sponsored three East Los Angeles College (ELAC) students to Washington D.C. for full-time internships at the Smithsonian.
Enrolled over three dozen ELAC students in Museum Studies Certificate Program courses.
Launched a new Southern California museum studies internship program with seven major museum partners committed to hosting ELAC students.
Hosted our first-ever all-virtual Gala, honoring artists York Chang and Beatriz Cortez, the legacy of the late Dr. Richard Zapanta, artworxLA and The Huntington.
And there is more to come. As we step into the holiday season and look toward 2021, we are grateful for exciting projects such as Sonidx: Audio Culture in Latinx Art, a major exhibition of sound-based works from forty Latinx artists, which will occupy all three floors of the museum. We also see a bright future for students of our Museum Studies Certificate Program: Gabriela Padilla, an alumna from the first cohort of our Smithsonian Internship, will graduate this winter from UC Berkeley!
Make a difference, and make a donation to help bring more people through our digital doors, so they may see themselves reflected in museum programs, exhibitions, and leadership.
Your generosity supports a diverse and equitable space made for artists and community members. Make your 100% tax deductible donation today!
Together we can make empathy, joy, and passion flow beyond the bounds of our museum and into the hearts and minds of the larger Los Angeles community. We look forward to building with you in 2021.
With deepest gratitude and warm holiday wishes,

Barbara Hensleigh
Board Chair
Vincent Price Art Museum Foundation
---
Donate Today
For #GivingTuesday, donate today to expand the reach of vibrant and culturally diverse art, support emerging and established artists, and draw community college students into the museum profession:
To make a contribution by mail, use the address below. All donations are tax-deductible. Tax ID#33-0368470.
Attention: VPAM Foundation
Vincent Price Art Museum
East Los Angeles College
1301 Avenida Cesar Chavez
Monterey Park, CA 91754-60999