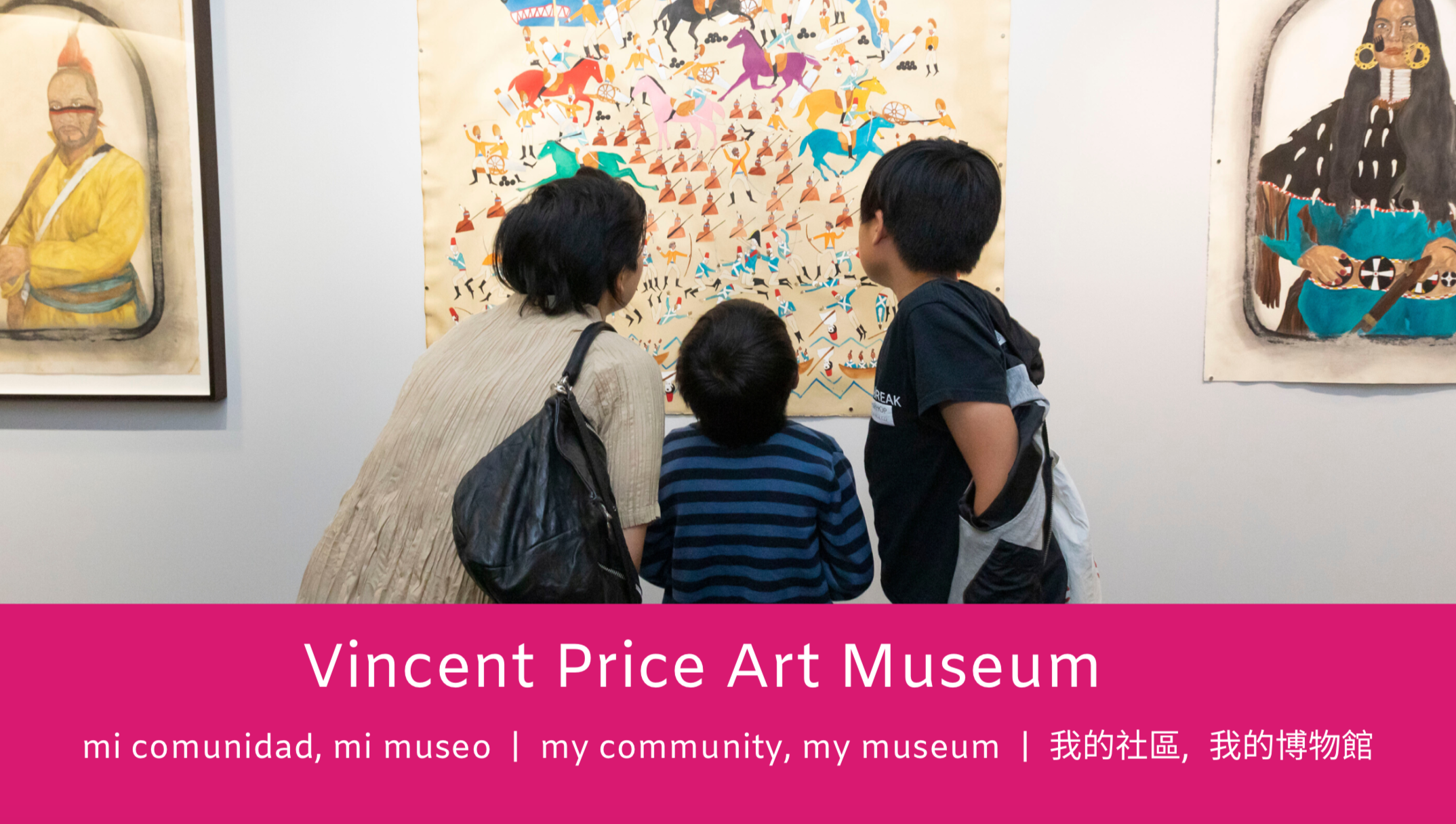 The Vincent Price Art Museum (VPAM) is dedicated to the representation of diverse voices and perspectives reflective of the world we live in. Nestled within the communities of East Los Angeles and the San Gabriel Valley, we know that the very nature of who we are is determined by who we serve. We seek to expand dialogues, to consider the direct relationships between local arts communities in Southern California with the many intersections of culture that transcend borders, and to increase exposure to the variety of cultural practices and conversations at work in the region.
Our goals over the past few years have been simple but profound: to foreground the ideas and vision of artists and cultural practitioners that reflect the diversity of our society; to shift the canon of art history by centering artists of color; to bring scholarship and art historical integrity to the work of under-recognized artists; to be a national leader in issues of diversity and equity in museums; and to be accessible and to listen and respond to the voices of those around us. We believe that what we do, and why we do it, is critical to society.
As the museum grows quickly this message feels more urgent than ever. In the past year, VPAM presented 17 new, continuing, permanent collection, and traveling exhibitions both onsite and offsite, all focused on artists of color. Highlights include new fall 2019 exhibitions George Rodriguez: Double Vision, the first career retrospective of the octogenarian photographer; Gabriela Ruiz: Full of Tears, the multifaceted artist's first solo museum show; and Yolanda González: Sueño de Familia / Dream of Family surveying five generations of artmaking by one family spanning 150 years between Mexico and the US. We are proud to have presented solo exhibitions in 2019 by York Chang, Edgar Fabían Frías, Umar Rashid (Frohawk Two Feathers), Guadalupe Rosales, Wang Xu, and Carolina Caycedo, whose video Apariciones / Apparitions, was co-acquired by VPAM and the Huntington Library, Art Museum, and Botanical Gardens, and is currently on view at both institutions.
This year we expanded our ongoing Smithsonian Undergraduate Internship Program, a diversity- pipeline program that sends students annually from East Los Angeles College (ELAC) to Washington DC for month-long, full-time internships within the Smithsonian Institution. Building on the success of the program the museum worked in partnership with ELAC to develop a new Museum Studies Certificate Program launched this fall. We are working to maximize the museum's potential as a critical resource within our educational institution, where we can be a hub, a laboratory, and a home to students interested in careers in the arts.
In the year ahead we look forward to a major exhibition on the presence of sound in Latinx art; an ambitious new video project by Camilo Ontiveros and Javier Tapia and a dynamic group exhibition of new works by artists of color, among other exhibitions, and a slate of free public programs including a new series of hands-on free family art workshops.
As 2019 winds down I would like to express my deep gratitude to the many artists, collaborators, partners and contributors who make VPAM the special place that it is. As part of our generous community of supporters you are working with us collectively to increase cultural representation and equity in museums, expand the services we offer our community, and help us create space for artists, students and future museum professionals.
We hope you will join us in our efforts by making a 100% tax deductible donation today! Thank you for your generosity as every gift makes a difference. On behalf of the museum's board of directors, staff, and volunteers we thank you for your continued support and we wish you a wonderful holiday season and prosperous year ahead!
With warm regards,





Pilar Tompkins Rivas
Director
Your contribution will allow VPAM to continue its programming, educational, and curatorial efforts that will benefit the diverse community we serve. Please make a contribution today of any amount through PayPal or by mail (address below) to support the Museum. Unrestricted gifts support all areas of Museum operations and programs. By giving today you ensure the Museum's future as a vibrant cultural institution. All donations are tax-deductible.
Your online contribution will be processed through PayPal. To make a contribution by mail, use the address below. All donations are tax-deductible. Tax ID#33-0368470.
Attention: VPAM Foundation
Vincent Price Art Museum
East Los Angeles College
1301 Avenida Cesar Chavez
Monterey Park, CA 91754-60999
---