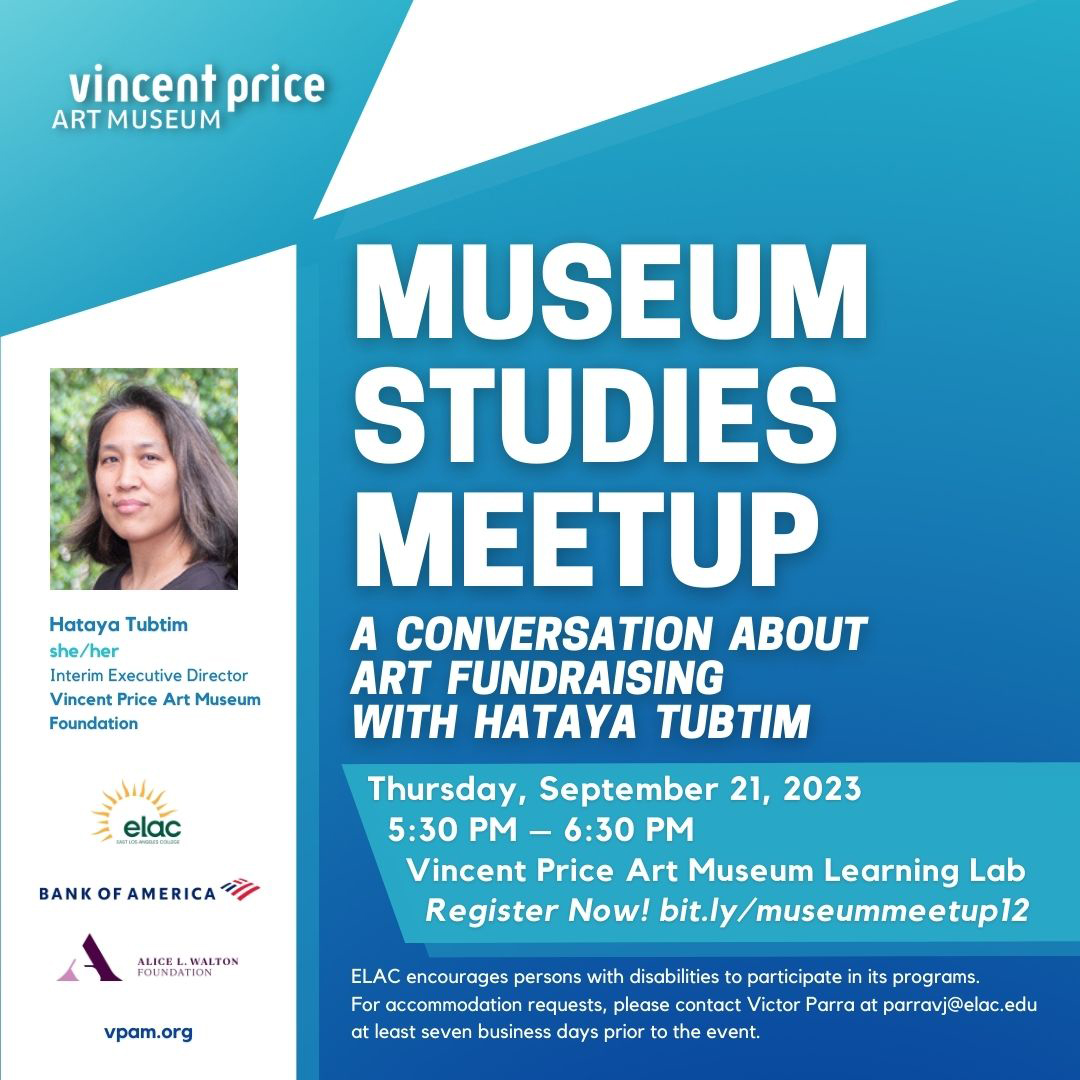 Thursday, September 21, 2023 | 5:30pm – 6:30pm
VPAM Learning Lab
Zoom Registration: bit.ly/museummeetup12
Join us for Museum Studies Meetup: A Conversation about Art Fundraising with Hataya Tubtim on Thursday, September 21st at 5:30pm in the VPAM Learning Lab! Learn the basics about grant proposals for an art project or arts non-profit organization. In this one-hour event, Hataya will share about their career trajectory into museum development and lead a brief grant activity so you can start funding your future projects.
About the Guest Speaker
Since 2014, Hataya Tubtim has provided grant consultation services for Los Angeles-based art non-profit organizations, such as the Los Angeles Nomadic Division (LAND), ESMoA (formerly known as the El Segundo Museum of Art), and the Vincent Price Art Museum to name a few. With her experience organizing large-scale community-based art projects, teaching visual arts education, and event fundraising, she has successfully secured numerous government awards, private foundation grants, and gifts from corporate giving circles for institutions as well as her own art practice. Most notably, she has facilitated and produced public art projects for the Arts Council of Kern, Los Angeles County Department of Arts and Culture, Pasadena Playhouse District, Downtown Long Beach Alliance, and the City of Long Beach. Currently, Hataya is the Interim Executive Director of the Vincent Price Art Museum Foundation. She obtained her BFA in Design from Art Center and MFA in Public Practice from Otis College of Design.
About the Event Series
The Vincent Price Art Museum proudly presents Museum Studies Meetups, a monthly meetup series dedicated to connecting current and prospective students enrolled in the Museum Studies Certificate Program at East Los Angeles College to current and relevant topics in the museum field.
Museum Studies Meetups are organized by the Vincent Price Art Museum in collaboration with the Art Department and Museum Studies Certificate Program at East Los Angeles College. The event series is made possible with the generous support from the Bank of America Foundation and the Alice L. Walton Foundation. All exhibitions and programs are underwritten by the Vincent Price Art Museum Foundation and East Los Angeles College.
To learn more about the Museum Studies Certificate Program, please visit: www.elac.edu/Academics/Departments/Art/Museum-Studies.