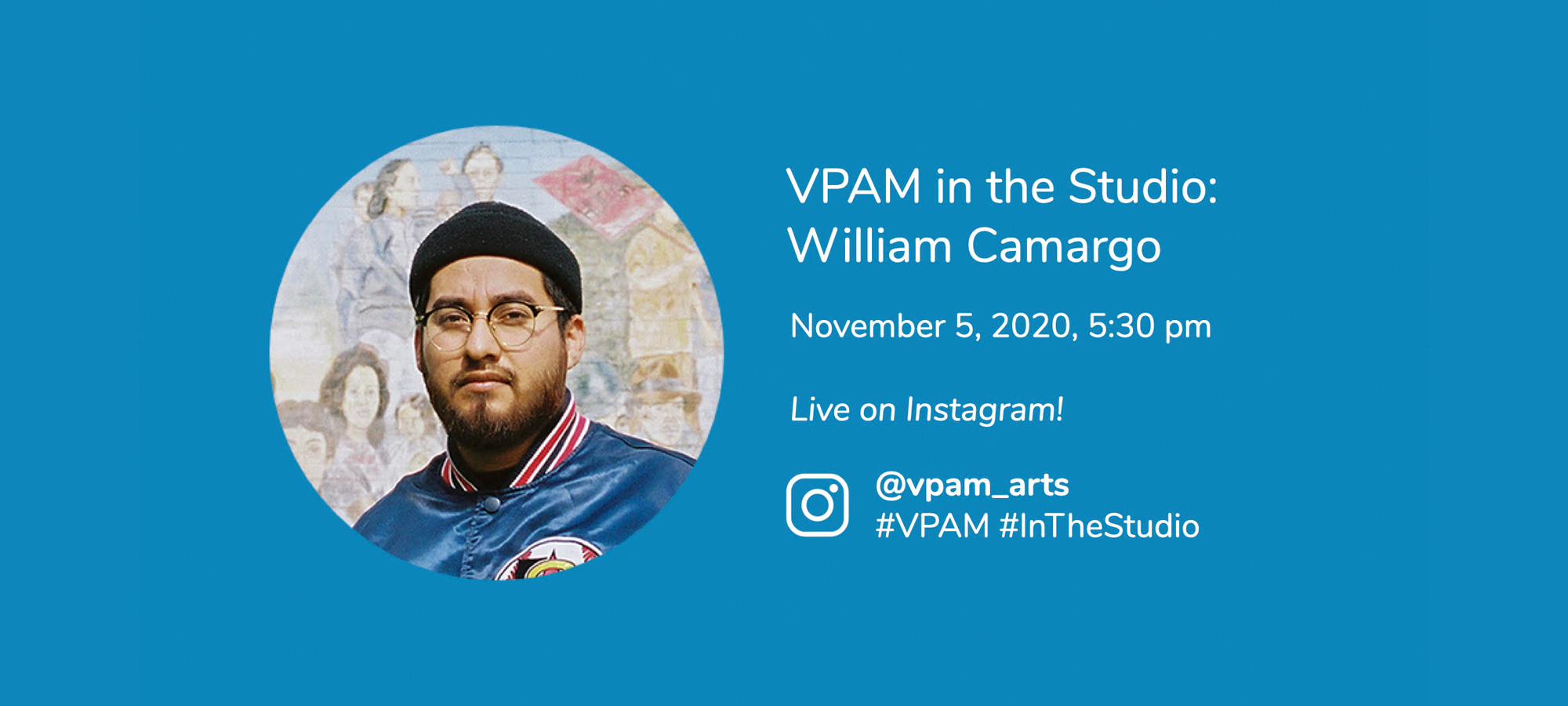 ---
Thursday, October 1, 2020 | 5:30 PM - 6:00 PM
Live on Instagram
rescheduled to Thursday, November 5, 2020 | 5:30 PM - 6:00 PM
Join us for VPAM in the Studio, a new series of short-format interviews designed to introduce artists and their practices to our museum community. Each virtual program will be recorded live on Instagram and made available on Facebook and YouTube platforms. This program will feature William Camargo and is hosted by Joseph Daniel Valencia, VPAM Exhibitions & Programs Manager.
About the artist
William Camargo is an arts educator, visual artist, and arts advocate born and raised in Anaheim, California. He holds an MFA from Claremont Graduate University, BFA from California State University, Fullerton, and an AA from Fullerton College. He is currently Artist in Residence at The Latinx Project at NYU, and has previously held residencies at Project Art, the Chicago Artist Coalition, ACRE, and at LA Summer held at Otis School of Art and Design. His work has been shown nationally, including Los Angeles Municipal Gallery; School of Visual Arts Project Space, New York; Loisaida Center, New York; Chicago Cultural Center; and the University of Indianapolis, among others. He has given lectures at the University of Wisconsin-Parkside, Gallery 400 (Chicago), University of San Diego, and Cal State Long Beach. His solo exhibition Origins & Displacements, Vols. 1 & 2 will be on view from the storefront windows at Grand Central Art Center (Santa Ana, CA) & MUZEO Museum & Cultural Center (Anaheim, CA) October 3, 2020 - December 31, 2020.
---
VPAM in the Studio is presented on the occasion of Hispanic Heritage Month and the launch of the Latinx Arts Alliance, a new collective of non-profit organizations in greater Los Angeles who champion, serve, and support Latinx art, artists, and culture.
All exhibitions and programs at the Vincent Price Art Museum are underwritten by the Vincent Price Art Museum Foundation and East Los Angeles College.