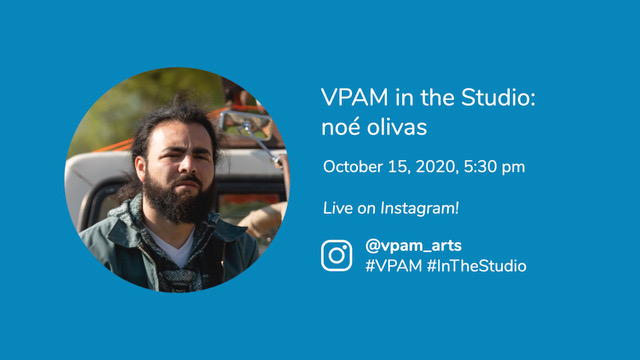 ---
Thursday, October 15, 2020, | 5:30 PM - 6:00 PM
Live on Instagram
Join us for VPAM in the Studio, a new series of short-format interviews designed to introduce artists and their practices to our museum community. Each virtual program will be recorded live on Instagram and made available on Facebook and YouTube platforms. This program will feature noé olivas and is hosted by Joseph Daniel Valencia, VPAM Exhibitions & Programs Manager.
About the artist
noé olivas is a Southern California-based artist. His work is a meditation on what he calls the poetics of labor, a deep reflection on presents, movements, and heart of the working-class community. He seeks to confront the invisibility of labor by engaging it with people from the community through collaboration, discussion, intervention, celebration, and healing. He often uses his family's personal archive and other found domestic or utilitarian objects and materials. He constructs sculptures, drawings, paintings, and prints that create a connecting point of familiarity through labor. These gestures are additionally explored in his performance practice where he takes into consideration how labor is performed in the everyday, utilizing it as a moment to engage audiences in exchanges of vulnerability.
olivas is also artist-gallerist-organizer and co-founder of the Crenshaw Dairy Mart and inaugural professor for the MFA Social and Environmental Arts Practice program at Prescott College, where he teaches a course on art and healing. He received an MFA from the University of Southern California in 2019, and a BA in Visual Arts from the University of San Diego in 2013. He lives and works in South Central, Los Angeles, CA.
---
VPAM in the Studio is presented on the occasion of Hispanic Heritage Month and the launch of the Latinx Arts Alliance, a new collective of non-profit organizations in greater Los Angeles who champion, serve, and support Latinx art, artists, and culture.
All exhibitions and programs at the Vincent Price Art Museum are underwritten by the Vincent Price Art Museum Foundation and East Los Angeles College.