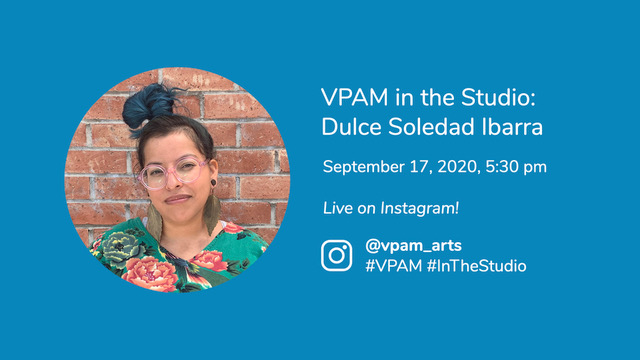 ---
Thursday, September 17, 2020 | 5:30 PM - 6:00 PM
Live on Instagram
Join us for VPAM in the Studio, a new series of short-format interviews designed to introduce artists and their practices to our museum community. Each virtual program will be recorded live on Instagram and made available on Facebook and YouTube platforms. This program will feature Dulce Soledad Ibarra and is hosted by Joseph Daniel Valencia, VPAM Exhibitions & Programs Manager.
About the artist
Dulce Soledad Ibarra is a multidisciplinary artist, designer, and curator with investments in community and identity-emphasized arts and opportunity. As a practicing artist, Ibarra discusses issues of generational guilt and cultural identities in videos, installations, and performances, and has been inviting the public to partake in the dialogue via workshops and participatory work. Looking through queer Xicanx perspective, the work is fueled by emotional labor, personal research and analysis. Currently, the work is centered around the Piñata/Party Supply District of Downtown Los Angeles, engaging in the means of sustaining as a community of businesses and as a place of cultural familiarities and commodities. Ibarra has exhibited, screened, performed, and programmed at venues across Southern California, including Angels Gate Cultural Center, Charlie James Gallery, Consulado General de México en Los Ángeles, Craft Contemporary, Echo Park Film Center, Guggenheim Gallery at Chapman University, Human Resources Los Angeles, ONE Gallery, West Hollywood, and Pieter Performance Space, among others. Ibarra holds an MFA from the University of Southern California and earned a BFA in Sculpture from California State University, Long Beach.
---
VPAM in the Studio is presented on the occasion of Hispanic Heritage Month and the launch of the Latinx Arts Alliance, a new collective of non-profit organizations in greater Los Angeles who champion, serve, and support Latinx art, artists, and culture.
All exhibitions and programs at the Vincent Price Art Museum are underwritten by the Vincent Price Art Museum Foundation and East Los Angeles College.