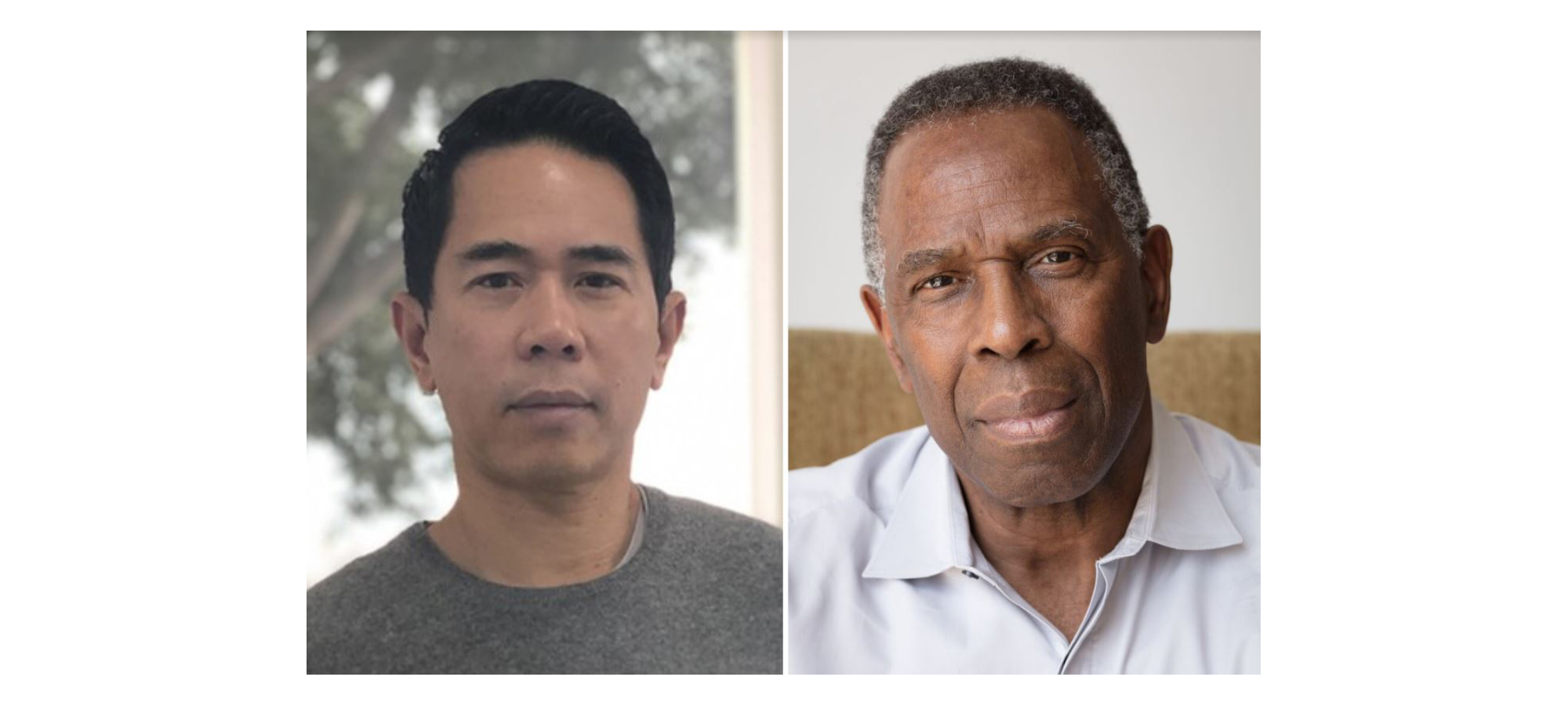 Join artists York Chang and Charles Gaines as they discuss the intersections between poetics, politics, and semiotics in their respective art practices. Presented in conjunction with the exhibition York Chang: The Signal and the Noise on view through July 20, 2019 at the Vincent Price Art Museum.
PARTICIPANT BIOS:

Trained as both a lawyer and an artist, Los Angeles-based artist York Chang (b. 1973) has a visual art practice that employs strategies of collage, décollage, redaction, and interlineation as interventions into information systems, often appropriating legal contracts, books, archives, documentary films, and newspapers for use as material in his projects. Chang's work is concurrently on view in a solo exhibition at the Orange County Museum of Art (OCMA), and he has exhibited his work at Commonwealth & Council, Greene Exhibitions, Samuel Freeman Gallery, Charlie James Gallery, 18th Street Arts Center, LACE, MAK Center for Art & Architecture, MassMOCA, and Edel Assanti. He is a 2014 California Community Foundation Fellowship for Visual Arts Grantee.
---
Highly regarded as a leading practitioner of conceptualism and an influential educator at CalArts, Los Angeles-based artist Charles Gaines (American, b. 1944) is celebrated for his works on paper and acrylic glass, photographs, drawings, musical compositions, and installations that investigate how rule-based procedures influence representation and construct meaning. Gaines' work is collected internationally, including at the MoMA, Whitney Museum of American Art, the Studio Museum in Harlem, and the Los Angeles County Museum of Art. His compositions created by translating revolutionary texts into musical notation have been widely performed, notably at the 2017 Melbourne Festival, at the Brooklyn Museum in 2016, and the 56th Biennale di Venezia, Venice. In 1977, Gaines received a grant from the National Endowment for the Arts, in 2007 a United States Artists Fellowship Award, in 2013 the Guggenheim Memorial Foundation Fellowship, in 2015 the CAA Artist Award, and the REDCAT award in 2018. Gaines is the 2019 recipient of the Edward MacDowell Medal.
Free RSVP