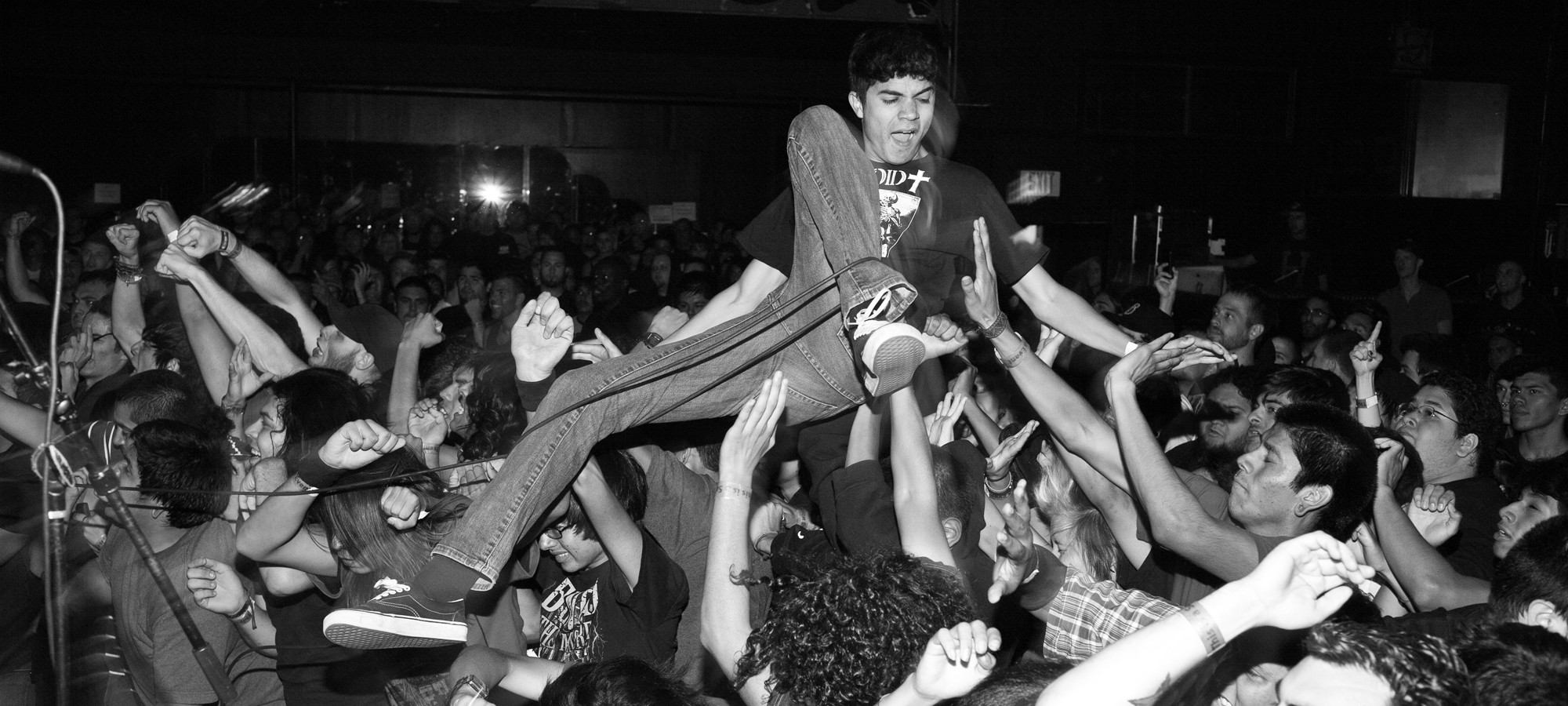 In dialogue with the themes of the Tastemakers & Earthshakers: Notes from Los Angeles Youth Culture, 1943 – 2016 this roundtable will focus on transnational music genres that are part of the mosaic of Southern California's youth cultures. Participants will reflect on how a song, a solitary chance glimpse of a music video, or the seemly random act of walking into a weekend backyard gig can inspire multi-directional flows of ideas, sounds, and fashion styles between the U.S and Latin America while creating sonic bridges between Pan-Latina/o cultural producers and audiences.
Participants Dr. José Anguiano (Honors College and Chicana/o, Latina/o Studies-CSULA), Yvonne Drazan (Vice President Latin Division, West Coast Peermusic), Jorge N. Leal (CLS-CSULA), and Dr. Daniel Topete (CLS-CSULA) will discuss how their youthful fascination with Rock en Español, artists like Caifanes/Jaguares and Morrissey led them to their academic studies and professional careers. In addition to examining transnational music genres that have resonated with Southern Californian scenesters and audiences during key transnational historical moments in the last three decades, the participants will encourage a collective assessment of how cultural and musical production fostered by Southern California youth cultures has been received, emulated, and remixed throughout the Americas impacting art and cultural production aquí, allá and beyond.
Participant Bios:
José Anguiano
Dr. José Anguiano is an assistant professor of Chicana/o and Latina/o Studies and the Honors College at Cal State LA. he received his PhD from the University of California, Santa Barbara in Chicana and Chicano Studies. His research is in the areas of: Chicana/o and Latina/o popular music and culture. His primary focus is Chicano/Latino listeners and audiences of popular music. Dr. Anguiano's research documents how popular music links communities of listeners across time and space, and how listening can be an active and creative form of claiming space, citizenship and respect. Jose has written about Morrissey fans, Spanish-language radio, and college student listening behavior and he is currently writing about Latino cholo-goth band, Prayers.
Yvonne Drazan
Yvonne (Gomez) Drazan is a pioneer and creative visionary for Latin Music. Drazan has not only successfully navigated the music industry for more than two decades, she has helped shape the state of Latin Music and was an early pioneer in what is now referred to as "Latin Alternative" with the creation of Club Rock En Español in 1989. Drazan is currently the Vice President Latin Division, West Coast for Peer Music where she discovers, mentors, and signs talented songwriters, artists and producers at every stage of their careers, as well as oversees catalog acquisitions, and maintains a deep, wide-spanning roster of Latin, Pop, and Urban writers for the US and Mexico. Throughout her career at peermusic, she has signed worldwide deals with artists Gloria Trevi, El Komander, Anahi, Plastilina Mosh, the production team of Alcover and Xtassy (aka A&X) who are best known for their work with Don Omar, Mark B, Henry Santos and Natti Natasha, among others. Alongside her Miami counterpart Julio Bagué, Drazan oversees the work of a stable of writer/artists including Prince Royce, Micky Huidobro (Molotov), Chayanne, ChocQuibTown, Fobia and mentors developing writer/artists Manu Manzo, and Julio Reyes-Rosas as well as multi-talented writer/producers Luigie Gonzalez, and Junior Cabral.
Jorge N. Leal
Jorge N. Leal is an urban and cultural historian whose research focuses on transnational Latina/o urban communities in Southern California. Previous to pursuing his doctoral training in History, Leal was an active participant in the Latina/o music scene in Los Angeles, both as rock critic for local publications and concert producer. In the latter capacity Leal booked and produced countless of shows with emerging and established band from the U.S. and Latin America throughout Los Angeles, Alta and Baja California and Chicago. Currently Leal is a Ph.D candidate in the History Department at UC San Diego where he is completing a dissertation that examines the generative articulations of participatory and cultural citizenship and the reshaping of the urban space in South East Los Angeles. Currently Leal teaches courses on urban history, race, gender, and culture for the Department of History at CSUN and for the Chicana/o Latina/o Studies Department, at Cal State L.A.
Daniel Topete
Daniel Topete is a Chicanx Studies scholar. He received a Ph.D. in American Studies in 2016 from the University of Minnesota, Twin Cities. He also received a Bachelor's and Master's in Chicano Studies from California State University, Los Angeles in 2006 and 2009, and wrote a Master's Thesis titled Undocumented Music: Belonging and Citizenship through Los Angeles based Hip-Hop. His work focuses on Artivism, Chicana/o Latina/o Education, construction of the Nation, Assimilation, Chicana/o Social Movements, and Gender performance. He was a guest DJ for a local Minneapolis radio show Radio Pocho, where his focus was on Latinx Rock from the 1960's to present. He taught in American Studies and Chicano Studies at the University of Minnesota from 2009 to 2015, and began teaching for CHS and CLS in 2015. Recently completed his dissertation titled Taking Back Mi Lengua: Spanish Rock, Space, and Authenticity in Chicana/o Barrios & Academia.