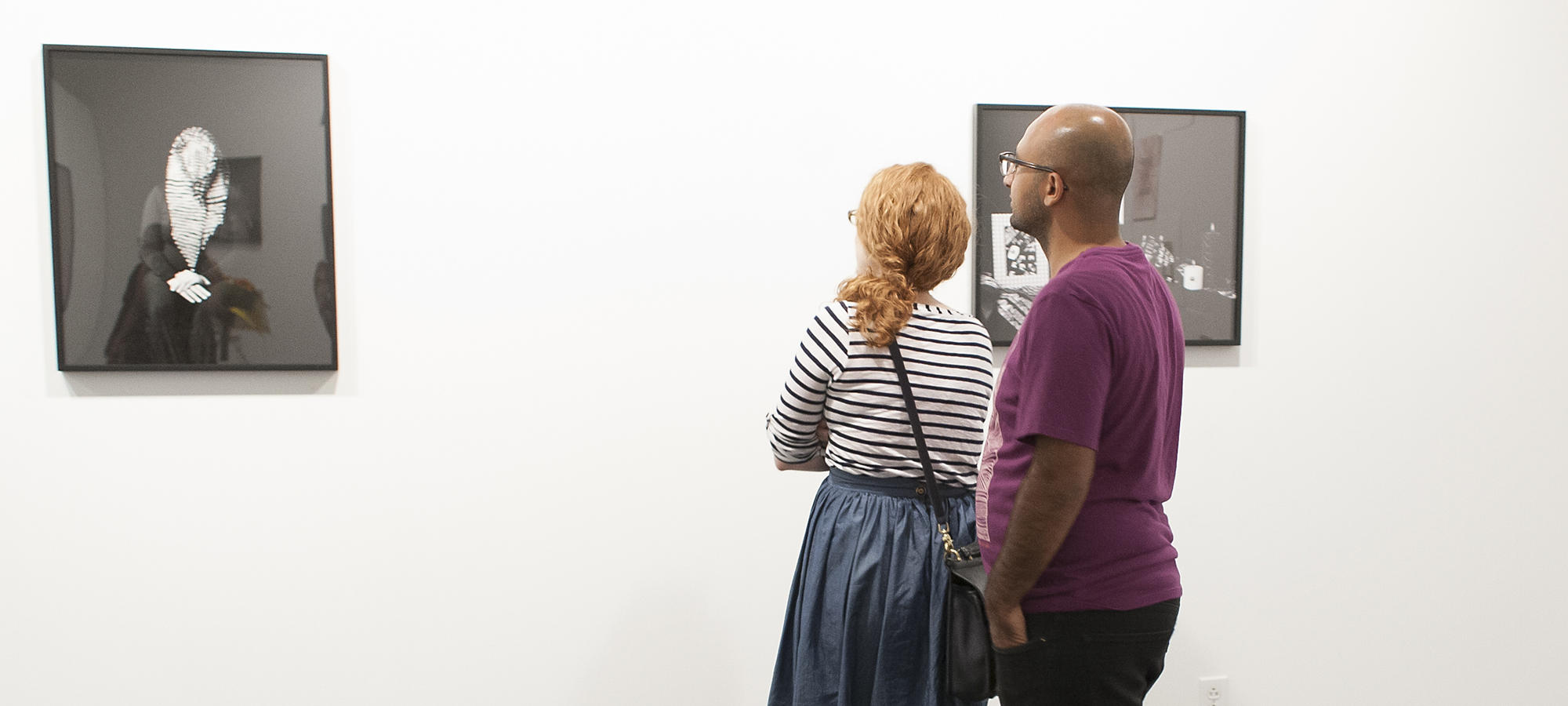 September 23, 2014 - December 6, 2014
Falahi is known for her large-format photography in which she combines portraiture with narrative tableau compositions. This exhibition, Study of Studs, includes a range of artwork created between 2011 and 2014 in which the artist expands on her photographic work and explores contemporary perspectives on identity using divergent materials.
Falahi's arresting self-portraits serve as points of departure about identity. The striking color-saturated photograph, Layers of Unrest 2009/Roya as Neda (2011), pays homage to the Iranian student, Neda Agha-Soltan, who was brutally assassinated in 2009 during the Iranian election protests. Inserted within this tightly arranged altar-like composition is the artist's own image standing in for the murdered Neda. For the portrait series, Headbang/Covert Ops. (2012), Falahi completely encrusted a hijab, or head covering, with metal studs. This series' mysterious and discomfiting figures are all self-portraits; their concealed identities are rendered both faceless and mute.
Falahi's moves freely between her Iranian-American heritage and her identification with popular culture, for example, with rock, punk, and metal music. She is seen rocking-out in the installation, Study of Studs/Headbang (2012), flipping her wild mane through the air in one image and raising her fist in solidarity in another. The prismatic metal stud is writ large here and transformed from a textile embellishment into an abstract grid and sculpture, exaggerated and edgy, almost beckoning to be touched.
Her latest work explores manifestations of the metal stud as the subject of admiration and inquiry. In the deadpan Study of Studs/Still Life (2014), she employs a familiar still-life composition to arrange, almost tenderly, many studs in a nostalgic setting. And in another recent work, she makes the large paper-studded text "Radiate" and "Radical" intersect at a bloodied "I", making reference perhaps to politics, or spirituality, or even musical lyrics. For Falahi, multiple and mixed readings are welcome. Her work is intentionally veiled, both figuratively and literally, to enact layered and complex connotations of contemporary identity.
Born in Washington D.C. in 1980, Roya Falahi received her BA in studio art from UC Irvine (2002), and her MFA in photography from UCLA (2006). Her work was featured in a solo show at the W. Keith and Janet Kellogg University Art Gallery, Cal Poly Pomona, CA (2011). Selected group shows include Anekantavada, Norco College Art Gallery, Norco, CA, (2014); Everyone's Time is Their Own, Alter Space, San Francisco, CA, (2014); Chockablock, University Art Museum, CSULB, Long Beach, CA, (2013); From LA to Tehran: Mapping the Transitional State of Contemporary Iranian Art, The Guild Gallery, New York, NY, (2009); Body Double, Luckman Gallery, California State University Los Angeles, Los Angeles, CA (2007); Falahi's work is featured in the 2009 publication Different Sames: New Perspectives in Contemporary Iranian Art, and has been published in Beautiful Decay magazine and the Los Angeles Times. She lives and works in Los Angeles, CA. Artist's web site: royafalahi.com
This exhibition is organized in conjunction with The Los Angeles/Islam Arts Initiative (LA/IAI), coordinated by the City of Los Angeles Department of Cultural Affairs (DCA). This fall, LA/IAI brings together nearly 30 cultural institutions throughout Los Angeles to tell various stories of traditional and contemporary art from multiple Islamic regions and their significant global diasporas.