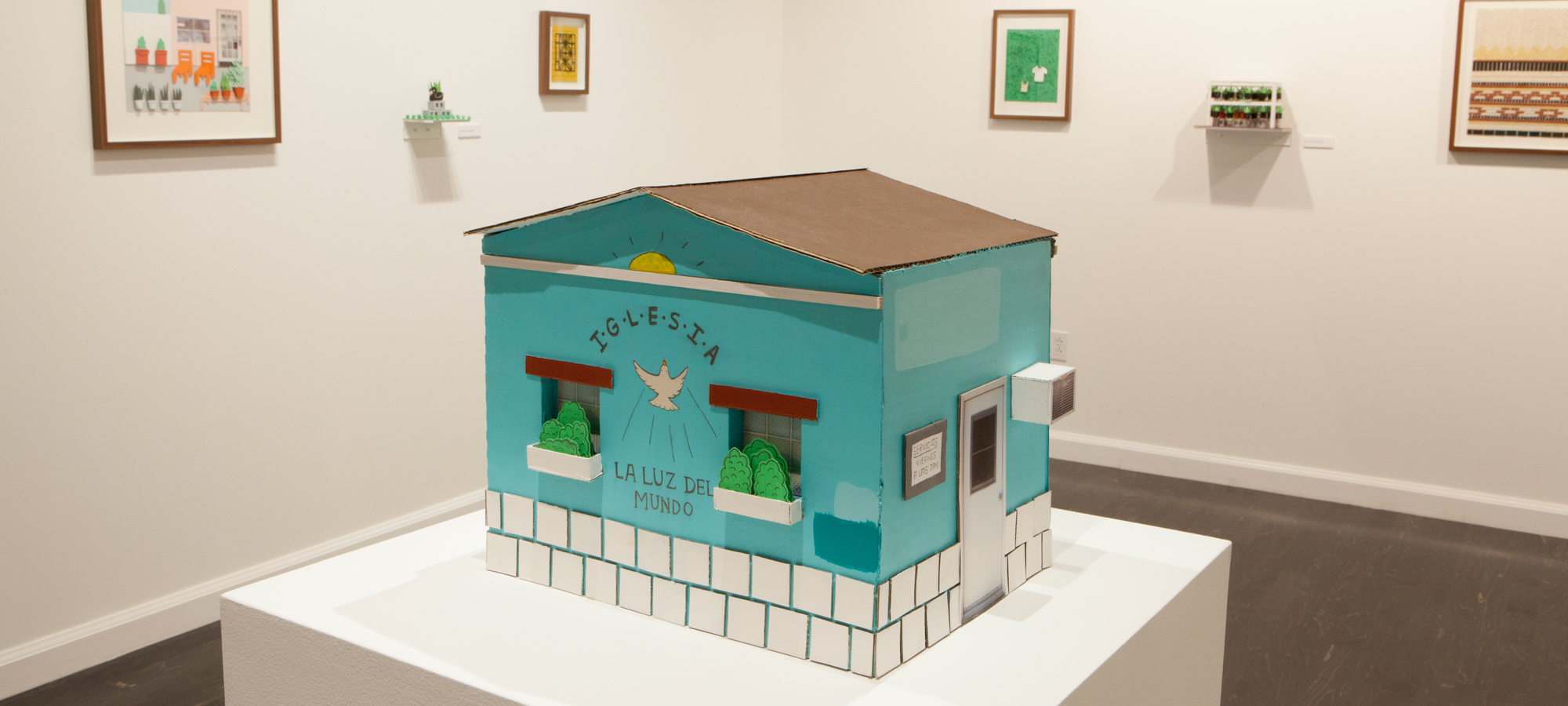 May 23, 2013 - July 26, 2013
Los Angeles-native Ana Serrano is the seventh artist to engage with VPAM's HOY SPACE, a project gallery that allows artists to experiment with new materials and ideas in a museum setting. Serrano, a first-generation Mexican American, grew up in the border area between the cities of Los Angeles and Vernon before moving to Downey. Her work is directly inspired by the physical and cultural contexts of her surroundings.
In the majority of her artwork, Serrano's choice of materials includes corrugated cardboard, acrylic paint, and photography. Cardboard has craft associations, it is an unrefined material commonly used as a disposable, protective shell. Serrano's work is labor intensive and involves processes that are exclusively hand-executed; her practice perfectly complements her use of unpretentious materials like cardboard. Photography plays an important role too: it allows the artist to capture and document the details of urban life that inspire elements in her work; it also lends an element of playfulness when incorporated directly within her compositions to produce trompe-l'oeil effects.
What does the title A Daydreamer's Street convey? It suggests taking time, slowing down, actively looking, observing, and noticing one's surroundings. Take The Rampart structure, for example: through Serrano's eyes, we appreciate the fabulously intricate patterning of the brickwork, the rhythm of the gated windows, the ubiquitous presence of satellite dishes and air conditioning units, even an occasional tuft of greenery. Places, seemingly ordinary ones, are not non-descript entities in Serrano's work; rather, they are unique, with individual, descriptive qualities that lend personality. Serrano celebrates the off-center, off-kilter, incongruous, and even, kitsch, elements we experience on the streets of Los Angeles everyday. Giving a nod to artist Ed Ruscha's seminal work of the 1960s, Every Building on the Sunset Strip, Serrano takes seemly anti-heroic places—mixed-use buildings housing liquor stores, clothing shops, and places of worship—and re-contextualizes them into endearing quasi-landmarks.
The approachable, humble qualities of Serrano's work belie their critical importance to Los Angeles, in particular. Los Angeles is renowned for its modern architecture: the names Richard Neutra, Rudolph Schindler, and Irving Gill are synonymous with the clean lines and cool, restrained style of Modernism. But, Los Angeles is also a place that is notoriously in flux – buildings are here one day and gone the next (including some modern treasurers!). Constant reinvention of space is our unofficial credo. It is precisely this lack of planning and oversight that allows for urban incongruities and juxtapositions, the exact elements that Serrano foregrounds in her work. She recognizes the challenges of maintaining informal economies across all parts of Los Angeles, and she shares her attraction to the DIY, the homegrown, the vernacular with us; she lauds the vibrancy of Los Angeles' neighborhoods that evolve organically into beautiful, noteworthy, memorable, if accidental, landscapes.
Ana Serrano received a BFA with honors from Art Center College of Design, Pasadena, CA in 2008. Her work has been included in a number of regional and national exhibitions including Living Walls, Sarratt Gallery, Nashville, TN (solo); Crossing Cultures: Ethnicity in Contemporary America, Sun Valley Center for the Arts, Sun Valley, ID; Pretty Monumental, University Art Gallery at Cal Poly San Luis Obispo, San Luis Obispo, CA (solo); Mapping Another L.A., Fowler Museum at UCLA, Los Angeles, CA; Salon of Beauty, Rice University Art Gallery, Houston, TX (solo); Papershapers, Scion Installation Space, Culver City CA; Emergency Landing, Tropico de Nopal Gallery, Los Angeles, CA; and East of Eden, Los Angeles Municipal Art Gallery, Hollywood, CA. In addition to her studio practice, Serrano creates sets, props, illustrations and animations for commercial clients. Visit the artist's website: www.anaserrano.com
---
Installation Shots
Opening Reception