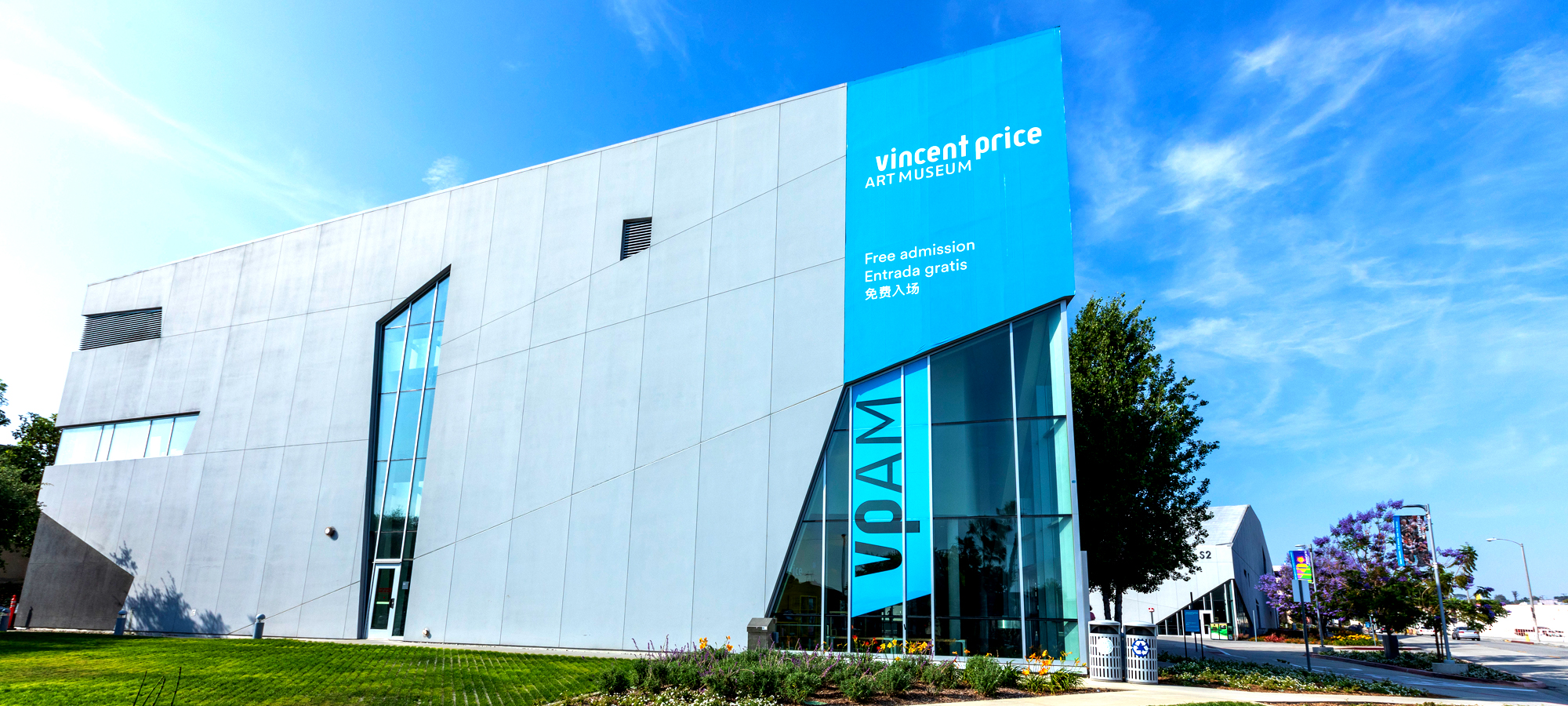 Job Title: Foundation Executive Director for Vincent Price Art Museum Foundation
Job Type: Employee, Part-time
Salary: $50,000 per year
Start: Must be available to start June 1, 2021
Vincent Price Art Museum/Foundation Background
The mission of the Vincent Price Art Museum Foundation, established in 1989, is to support the Vincent Price Art Museum (VPAM) in serving as an art and cultural center that benefits East Los Angeles College (ELAC) and its surrounding communities. The museum serves as a unique educational resource for the diverse audiences of the college and community through the exhibition, interpretation, collection, and preservation of works in all media of the visual arts. VPAM centers on artists of color and has emerged as a national leader in the field of Latinx art, generating new scholarship and opportunities through its exhibitions, publications, diversity pipeline programs, and institutional and community partnerships.
VPAM sits on the campus of ELAC, located in Monterey Park, and serves adjacent communities such as Boyle Heights, East Los Angeles, the San Gabriel Valley, South East Los Angeles, with an extended reach across Southern California.. VPAM has had a presence on this campus for more than fifty years. In 1951, Vincent Price—noted actor, collector and one of Los Angeles's great champions of the arts—made his first visit to ELAC. Together with his wife Mary Grant, Vincent Price was a frequent visitor here, a speaker at graduation ceremonies and a classroom guest who eagerly engaged with students and faculty. Mr. Price noticed a lack of opportunity for students on this campus–and in East LA in general–to have first-hand experiences with art. The Prices took the initiative to remedy this shortcoming and donated 90 pieces from their personal collection in 1957 to establish the first "teaching art collection" housed at a community college.
Over the past 50 years, the collection has grown to more than 9,000 objects and now inhabits a 40,000 square foot state of the art museum. VPAM houses seven art galleries which can accommodate temporary rotating exhibitions, student shows, permanent collection shows, and artist and community projects; there is also a specially designed vault for the permanent collection named after long-time Museum Director, Thomas Silliman; and a multimedia lecture hall for art history classes. VPAM and is one of three buildings that make up the 160,000-square-foot Performing and Fine Arts Center at ELAC, designed by the internationally recognized firm Arquitectonica, and serves as the permanent residence for many campus departments including Music, Theater, Dance, Studio Art, and Art History.
Experiencing significant growth between 2016 and 2020, and the curation of groundbreaking exhibitions such as George Rodriguez: Double Vision, Regeneración: Three Generations of Revolutionary Ideology, Umar Rashid (Frohawk Two Feathers):The World You Know is a Fiction: You Know We had to Do a Remix, Right? Vignettes of the Frenglish Empire in North America (1789-1795), A Decolonial Atlas: Strategies in Contemporary Art of the Americas, Laura Aguilar: Show and Tell, and Tastemakers & Earthshakers: Notes from Los Angeles Youth Culture, 1943-2016 - many of which traveled to museums across the globe - VPAM earned national, and indeed international recognition, as a museum changing the dialogue within the traditionally elite museum construct and museum audiences.
Now under the direction of newly named VPAM Museum Director, Steven Y. Wong, a curator, educator, and arts administrator, and most recently serving as the Curator at the Los Angeles Municipal Art Gallery (LAMAG) at Barnsdall Park, the museum will continue to shape its legacy as an institution serving not only East Los Angeles College but an ever broader public with important exhibitions that highlight BIPOC artists.
The Vincent Price Art Museum Foundation board is an all-volunteer board that consists of nine highly engaged individuals who are deeply committed to the museum's mission and to the principles and practice of diversity. Of current board members 56% are female and 78% are POC.
The board also brings a broad diversity of professional experience spanning the entertainment, legal, banking, financial, marketing, and non-profit arts sectors with extensive knowledge of museums.
Board meetings are held monthly that include the East LA College President, its Dean of Instructional Services, VPAM and foundation staff with reports from its formal committees including Ex/Com, Finance, and Acquisitions.
The board's primary function is to steward all efforts to generate financial support for VPAM including donor cultivation, grant applications and compliance, an annual Gala, year-end giving campaigns, and the employment of five staff members that augment staffing support provided by ELAC.
Job Description: Responsibilities and Duties
Laisse with Vincent Price Art Museum Director
Interface, collaborate and coordinate with the Museum Director with respect to all facets of the Director's work including development of an annual budget, ensuring the proper expenditure of grant funds, tracking budget to actual expenses, ensuring the production of quarterly and annual financial statements for the foundation board's review.
Develop and implement fundraising plans to secure and grow revenue sources through grants, business and government partnerships, and donors.
Identify prospective grant-makers and write grants: build and leverage partnership; build on current donor base to encourage repeat gifts and expand to prospective donors.
Develop and oversee the foundation communications strategy and deployment and serve as the first point of media contact for external communications for the foundation.
Fiduciary/Legal Responsibilities
Fiscal integrity of VPAM Foundation to include the preparation of the annual budget and monthly financial statements, which accurately reflect the financial condition of the organization.
Represent the VPAM Foundation with regard to its responsibilities to the LACCD/ELAC, including but not limited to:
Maintaining proper insurance policies for the Foundation, including D&O insurance and insurance required by LACCD/ELAC.
Ensuring the Foundation complies with its contractual obligations to the LACCD/ELAC.
Ensuring the Performance of External Annual Audits and implementing recommendations of those audits.
Supervisory Responsibilities
Collaborate with the Museum Director with regard to the roles of all other employees of the Foundation who work at the museum and are supervised by museum staff to oversee and address any employment issues, conduct annual evaluations, ensure compliance with employment policies and procedures and employment law.
Supervising Bookkeeping Services.
Board Responsibilities
Effective administration of VPAM Foundation operations.
Attend all scheduled and special board meetings.
Interface, coordinate, and collaborate with the Executive Committee of the Foundation and all board members in their various capacities to ensure a smooth and properly functioning Foundation.
Prepare for and present to the Board Foundation status reports, financial reports and other matters that require board approval or which are necessary to ensure a properly functioning board.
Lead and oversee all fundraising activities of the Foundation including, but not limited to, seeking grant funding opportunities, supervision of Grants Manager and grant writing, cultivation of existing and new donors, oversight of the annual gala, year end funding, and all other fund-raising activities.
And all duties as reasonably delegated by the board.
Qualifications
Master's degree with focus in education, non-profit management, business, communications.
Active fundraising experience with excellent donor relations skills and knowledge of the local and national funding community.
Transparent and high integrity leadership.
Board leadership experience.
Exceptional communications skills (written and verbal).
Work experience consistent with VPAM/VPAMF mission.
Ability to effectively communicate the organization's mission to all stakeholders.
Experience working in a multicultural environment.
Demonstrated ability to oversee and collaborate with staff.
Preferred Qualifications
Four or more years of experience in the field of education, museums, or arts organizations.
Knowledge of Latinx and culturally diverse art communities.
Computer competency including advanced skills in Microsoft suite: Word, Excel, PowerPoint and Google Docs.
Special
A valid Class "C" California driver's license is required. Travel throughout the District is required.
Reasonable Accommodations
In accordance with the Americans with Disabilities Act (ADA), the VPAMF provides reasonable accommodation to qualified individuals with covered disabilities on a case-by-case basis throughout the application, examination, and hiring processes and throughout employment. If an individual is in doubt about his or her ability to perform the duties and responsibilities noted herein, he or she should always apply for a position and request reasonable accommodation at the appropriate time.
---
Submit cover letter and resume to:
https://www.surveymonkey.com/r/VPAMFED
For inquiries please use the link below:
https://www.surveymonkey.com/r/VPAMFEDInquiry
---