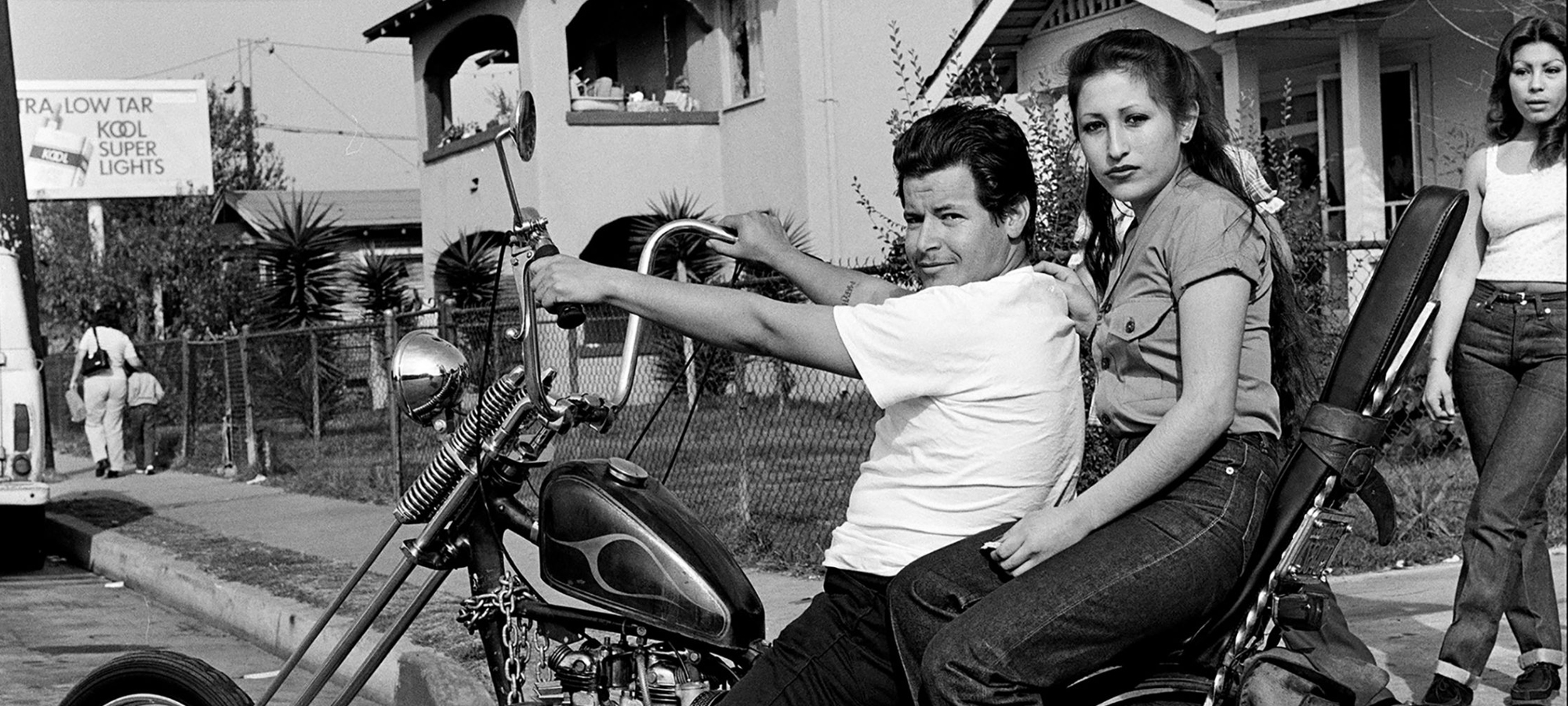 October 15, 2016 - February 25, 2017
Tastemakers & Earthshakers: Notes from Los Angeles Youth Culture, 1943 – 2016 is a multimedia exhibition that traverses eight decades of style, art, and music, and presents vignettes that consider youth culture as a social class, distinct issues associated with young people, principles of social organization, and the emergence of subcultural groups. Citing the 1943 Zoot Suit Riots as a seminal moment in the history of Los Angeles youth culture, the exhibition emphasizes a recirculation of shared experiences across time, reflecting recurrent and ongoing struggles and triumphs.
From the G.I. generation to the Millennials, young people from Los Angeles have shaped their identities through aesthetics, ideologies, and diverse forms of expression. The exhibition is not a historical overview, but is instead a presentation of kaleidoscopic group experiences and subcultural genres, emphasizing the creativity, inventiveness and diversity characterizing the World War II/post-war period to the present. Often considered to be outside of mainstream narratives and visual identities, youth culture in Los Angeles intersects with important social movements and countercultural discourse in the post-war era.
Thematic sections include: a look at connections between Los Angeles and British youth cultures and the dialog between the two; pachuco and pachuca culture; criminalization of youth from World War II to the present; generations of youth resistance; the collapse of musical genres with social identities and street fashion; the emergence of social spaces; and a speculative future of tomorrow's youth. The exhibition includes drawing, installation, painting, photography, printmaking and sculpture, as well as elements from mass media such as television footage, print media, documentary photography, social media, and ephemera. Additionally, it features an installation of pachuco-era men and women's fashion, and a digital music platform.
Tastemakers & Earthshakers: Notes from Los Angeles Youth Culture, 1943 - 2016 is organized by Pilar Tompkins Rivas, with collaboration from John Carlos de Luna (Barrio Dandy), Lysa Flores, Carribean Fragoza, Ruben Guevara, Colin Gunckel, Romeo Guzman, Jorge Leal, Vincent Ramos, Adrian Rivas, Laleña Vellanoweth, and Mario Ybarra, Jr. The exhibition includes more than forty artists: Richard E. Aaron, Asco, Adriana Avila, Ben Avila, Judy Baca, Janette Beckman, Chaz Bojorquez, Gregory Bojorquez, Juan Capistran, Rafael Cardenas, Carolyn Castaño, Oscar Castillo, Gusmano Cesaretti, Sandra de la Loza, John Carlos de Luna (Barrio Dandy), Karla Diaz, Dino Dinco, Alex Donis, Richard Duardo, Pete Galindo, Harry Gamboa Jr., Alonso Garzon, Ignacio Gomez, Willie Herrón III, Salomón Huerta, Nery G. Lemus, Patrick Martinez, Yvette Mayorga, Jose Montoya, Timothy Norris, Felix Quintana, Vincent Ramos, Guadalupe Rosales, Shizu Saldamando, Humberto Sandoval, Marlene Tafoya, Michael Tafoya, John Valadez, Patssi Valdez, Vincent Valdez, Ricardo Valverde, Arnoldo Vargas, Mario Ybarra Jr. and Andi Xoch. Additional contributors include Carmelo Alvarez, Mike Avelar, Yolanda Comparán Ferrer, Richard Estrada, Lalo Guerrero, Art Laboe, and Sabby Rayas.
Listen to our exclusive curated playlists for Tastemakers & Earthshakers: Notes from Los Angeles Youth Culture, 1943 – 2016
---
Opening Reception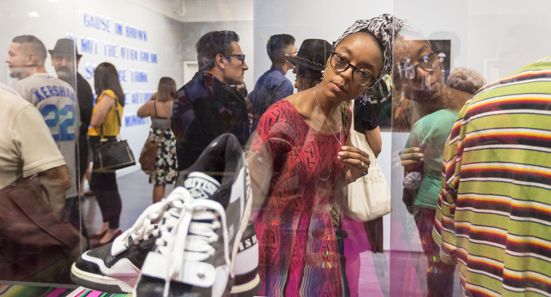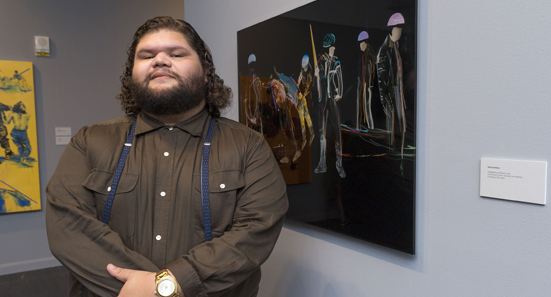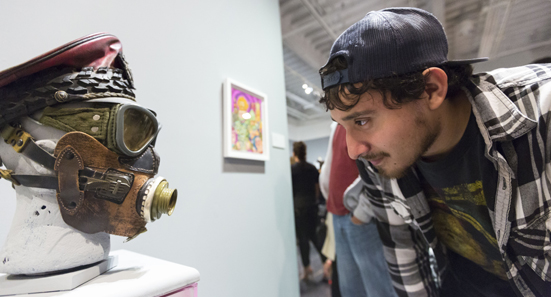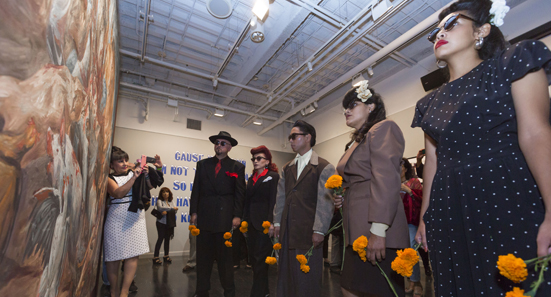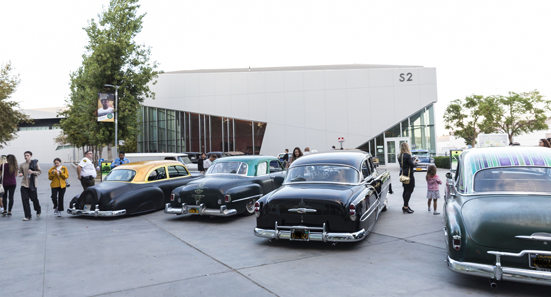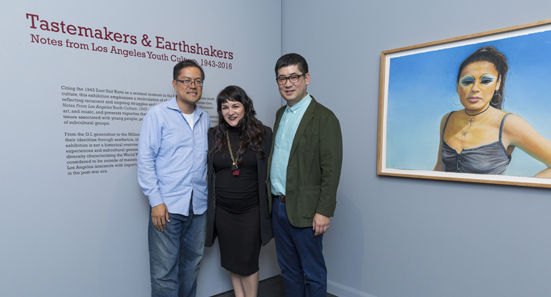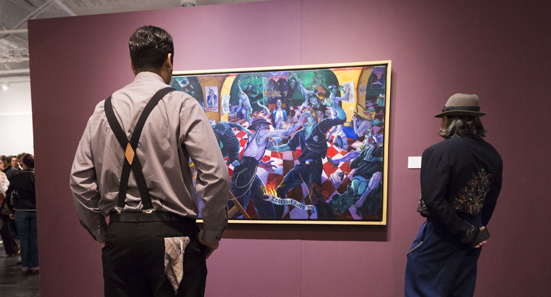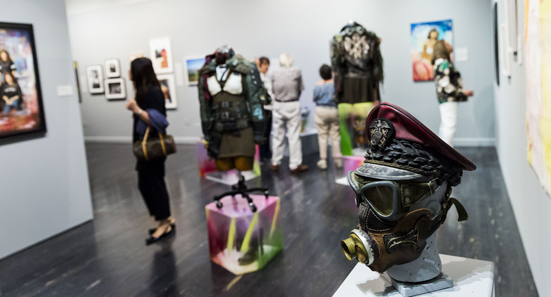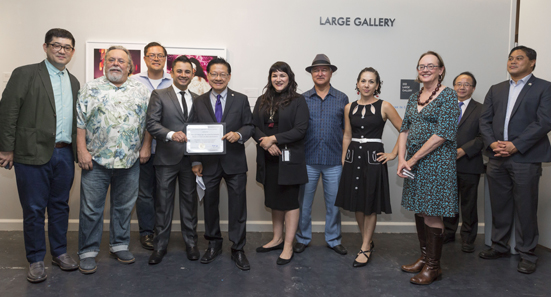 Images by Monica Orozco