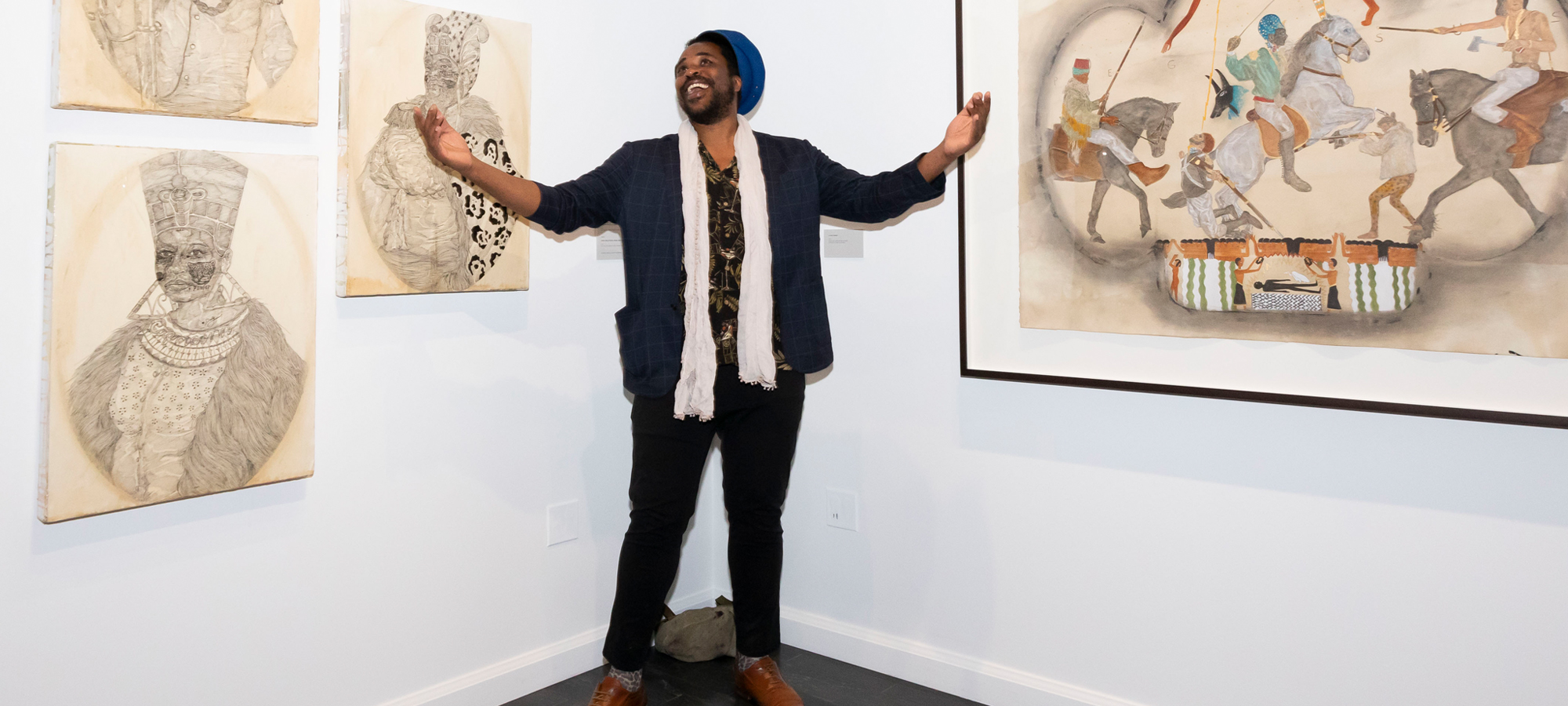 January 18, 2020
2:00 - 3:00 PM
Join us for a conversation and walkthrough with Los Angeles-based artist Umar Rashid. This event will be moderated by VPAM board member George Yin. "Presented in conjunction with the exhibition Umar Rashid (Frohawk Two Feathers): The World You Know is a Fiction. You Know We Had to do a Remix, Right? Vignettes of the Frenglish Empire in North America (1780-1795).
ABOUT THE EXHIBITION:
Within his artistic practice, Umar Rashid blends fictional and real histories, while freely traversing both time and world geography. Rich with detail, Rashid's paintings, drawings, and sculptures reference colonialism, empire, and westward expansion in the Americas during the 18th century, remixing global players – African, European, and indigenous peoples – in a process of storytelling and mythmaking. By reworking the historic projects of colonization, war, and the making of nation-states, Rashid creates alternate narratives, scripting a different past for human history – one that intersects with the present and forecasts new futures.
ABOUT THE PARTICIPANTS:
Los Angeles-based artist, storyteller, history buff, musician, and poet Umar Rashid (Frohawk Two Feathers) was born in 1976 in Chicago. He earned a BA at Southern Illinois University in 2000 and has exhibited widely nationally and internationally. His work has been presented at numerous institutions including the Hudson River Museum, the Wadsworth Atheneum Museum of Art, the Nevada Museum of Art, the Visual Arts Center of New Jersey, the Ruth and Elmer Wellin Museum of Art at Hamilton College, the Museum of Contemporary Art, Denver, The Armory Center for the Arts, the Contemporary Arts Center, Cincinnati, the Kentucky Museum of Art and Craft, the Torrance Art Museum, and the Santa Barbara Museum of Art. Additionally, he has participated in solo and group gallery exhibitions around the world.
George Yin is a board member at the Vincent Price Art Museum Foundation. He is an election and political law attorney with the Kaufman Legal Group and a long-time community, civil rights, culture and arts activist. George holds a J.D. from UCLA Law School, an M.A. in Urban Planning from the UCLA Luskin School of Public Affairs, an M.Sc. in Public Administration/Public Policy from the London School of Economics, and a B.A. from Cornell University.