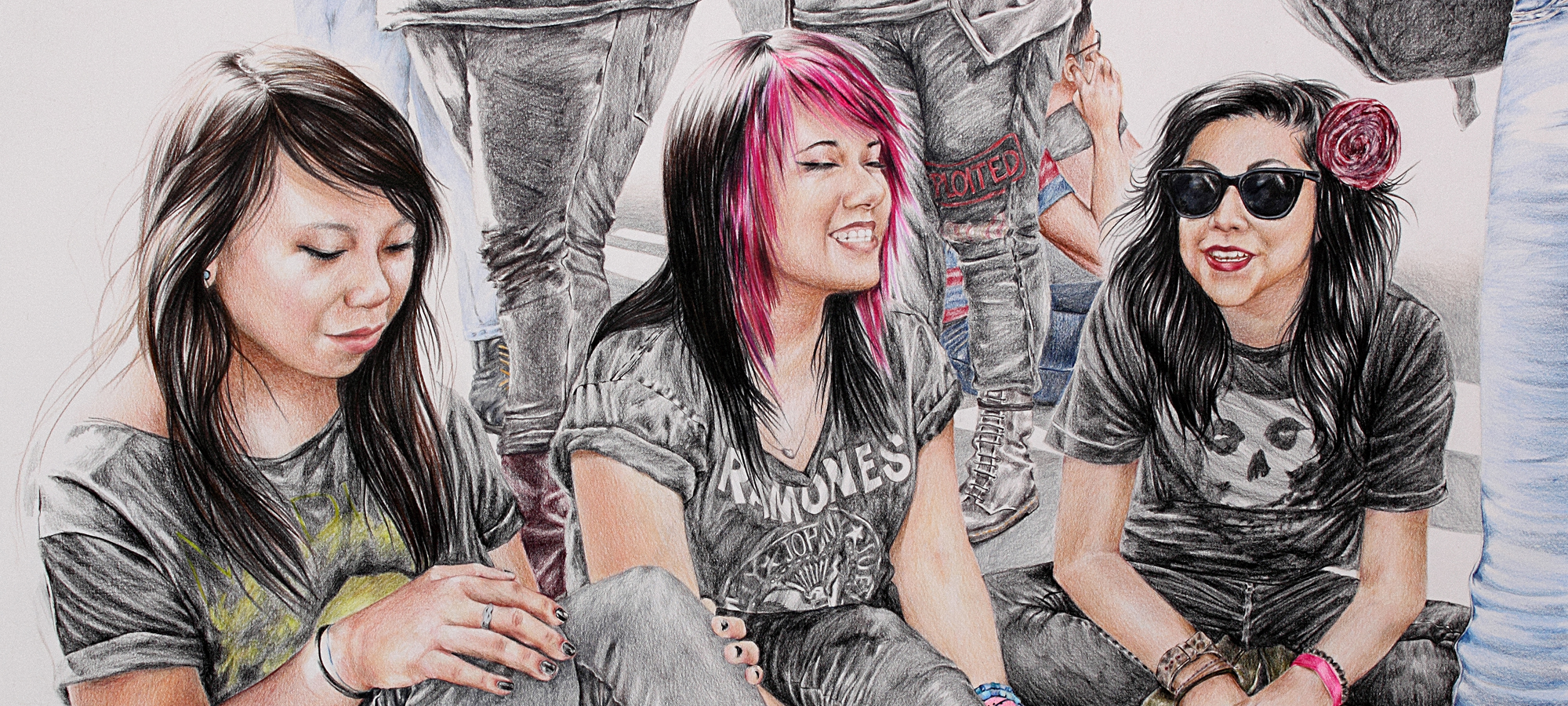 VPAM is thrilled to present the first museum survey show of visual artist Shizu Saldamando. When You Sleep: A Survey of Shizu Saldamando includes work from 1999 to the present in a variety of media including painting, drawing, mixed media, and video. Saldamando grew up in San Francisco and relocated to Southern California to complete her BFA at the University of California, Los Angeles, and her MFA at the California Institute for the Arts. The artist is as well known for her meticulously rendered artwork as she is for the inspiration she finds in Los Angeles and in its diverse subcultures.
Like many artists, Saldamando chooses the materials she works with for the specific references that are evoked. When she draws on fabrics like bed sheets or handkerchiefs, or construct collages out of washi paper, she consciously valorizes craft production. Craft is a kind of art making that places a premium on accessibility and relatability.
Saldamando's drawings on handkerchiefs are, for example, inspired in part by her teenage fascination with popular culture as depicted in magazines like Teen Angels. Her small ball-point-pen drawings of musical icons and their adoring fans pay tribute to the powerful gaze of youth culture. Farewell to Rohwer, a 2006 hand-made washi-paper-rose wreath sculpture, pays homage in a decidedly more solemn vein: this piece commemorates the experiences of several of the artist's family members who were detained during World War II at the Rohwer Internment Camp in Arkansas.
Saldamando's practice on the whole often involves paying tribute; in her work she may foreground the cultural underpinnings of a favorite band, or the complexities of a forgotten past. But, the most frequent way she shows her admiration is by capturing the likenesses of her friends in her work. The subjects of many of Saldamando's portraits are indeed her friends, friends whom she admires for their independence, nonconformity and everyday heroism. In this artist's world, difference and diversity reign supreme. Saldamando's artwork makes meaningful, visible, and accessible the complexities and nuances of today.
A 64-page full-color catalogue accompanies the show.
---
Installation Shots
Opening Reception